Phu Chi Fa : Top Attraction in Thoeng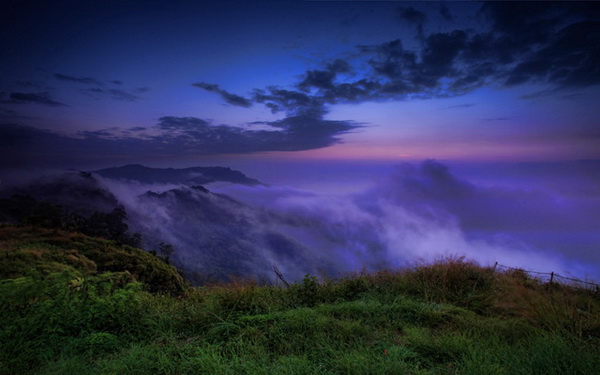 Thoeng is a mountainous district, the conspicuous 1,174 m high Doi Lan rises 12 km to the east and 823 m high Doi Kham rises 4 km south of the town between Thoeng and Chiang Kham. There are some higher mountains in the east of the district such as 1,013 m high Doi Pha Mon and 1,442 m high Phu Chi Fa at the border with Wiang Kaen District. The Ing River, with its source in the Phi Pan Nam Range (Doi Luang in Mae Chai District, Phayao Province) flows through the plain area of Thoeng. Other rivers in the area are the Lao River, a tributary of the Kok River, from Doi Phu Lang Ka, Chiang Kham District, in the north and Ngao River from Doi Pha Mon and the Plong River.
Phu Chi Fa Forest Park
Phu Chi Fah Forest Park is located in the area of the Pa Mae Ing and Pa Mae Ngao National Forest Reserve, which falls within Baan Rom Fah Thong Moo 9 and Baan Rom Fah Thai Moo 10, Tambon Por, Wiang Kan District, Chiang Rai Province. The area also falls within the Forest Conservation Area (Zone C) with total area of approximately 2,500 rais announced by the Royal Forest Department as a Forest Park on 6th February, 1998.
The area is in the midst of Doi Pa Mohn Mountain range along the Thai-Laos border. The area is 1,200-1,628 meters above average sea level and an average slope all round of approximately 40%. The highest spot is recorded at the observation point.
Temperature up on the hills can be quite cool but season wise, it would be more like Tropical Monsoon with influence from South-Westerly wind during rainy seasons and North-Easterly wind during winter. There are 3 seasons altogether in this area – summer from March to May, rainy season from June to September and winter from October to February.
Phu Chi Fa is an attractive target charming appeal. Each year, visitors have come to appreciate a lot. Especially during the rainy season – during the winter season around. February of every year. The cut flowers or wild Chong. The white-pink flowers bloom at the foot of Phu Chi Fa, the Tourism Authority of Thailand (TAT) was packed out on February 13 to 15 people visit each year to the calendar will be held. "Flowers blooming at a fraction of Phu Chi Fa" to visit Phu Chi Fa. The resort is at the foot of the Phu Chi Fa. Phu Chi Fa Forest Park has a camping ground. When you hit 5, it would take to drive a car from the resort. To the parking lot. Then walk up Phu Chi Fa.