Phrathat Sri Chom Thong Temple: 'A monastery for whoever born in year of the rat.'
Temples are not only respectable places for Buddhists, but also important tourist attractions of Thailand. There are many glorious temples in every towns of the country, including Chiang Mai. If you visit any of them, you will see that there are a bunch of tourists around, both Thai and foreign. Temples are not only heart-gathering spots, but also history learning centres. 
Most of temples in Chiang Mai full of over-a-century stories. Therefore you won't be disappointed if you see them, as you will have opportunities of learning what people in the past did. 
Not only that, going to a temple, especially in a historic town like Chiang Mai, can comfort your mind. If you feel nervous or sad, and then you see a golden Chedi or a stuning Vihara in a temple, you may feel better. 
In that case, if you're interested in going to a temple in Chiang Mai to see ancient architectures, but you still don't know which one you should visit, then here is a suggested one for you. 
Let's go to Phrathat Sri Chom Thong Temple.
Phrathat Sri Chom Thong Temple, or Wat Phrathat Jao Sri Jom Thong, is a temple in Jom Thong County. The legend says, it was probably built in somewhere around the 20th-24th Buddhist era, according to the art and architectural evidences within the temple.
One of the things that make Wat Phrathat Sri Chom Thong so important is, this temple is the storage of a part of Lord Buddha's relics. The legend also says that the Indian emperor Ashoka was the one who brough the relics to the temple.
Not only that, Wat Phrathat Sri Chom Thong was also registered as a national historic site, along with many other temples in Chiang Mai.
Moreover, this is a fortunate temple for those who were born in year of the rat. If you are a one, then don't hesitate to go to this temple and respect to the place, for your own good fortune. You can go at any regular time or on some special occasion like your birthday.
All of these are the reasons why you should visit Phrathat Sri Chom Thong Temple. Yes. This temple is baked with many interesing historic stories. You should feel happy and enjoy your learning of everything as soon as you set your foot in the area.
As soon as you arrive at the temple, you will feel surprised so much that you may stop breathing, as the temple is located on a 10-metre-high hill. Therefore you will be able to the clear sky, trees, and other kinds of beautiful scenery.
There are many important architectures at the temple, but the most outstanding one is probably the golden Chedi. This Chedi is in fact called 'Phra Baromthat Chedi', the one you don't want to miss most! You will see how sparkling it is in the middle of the sunlight. You certainly don't want to forget your camera behind.
However, this Chedi was once renovated. At the same time, the workers found some pieces of treasures under the ground, and, from that point, the treasures has been stored in security cages behind the vihara of the temple.
Beside of the Chedi, another thing that you should notice too, is the ancient Bothi Tree, which has been living for over a hundred years. If you travel to Phrathat Sri Chom Thong Temple right on time, you may be able to watch a ritual named 'Hae Mai Kham Bothi'. In the ritual, people will use long sticks of woods to prop the Bothi Tree up, as it is believed that the tree is holy and keeps everyone in the town safe.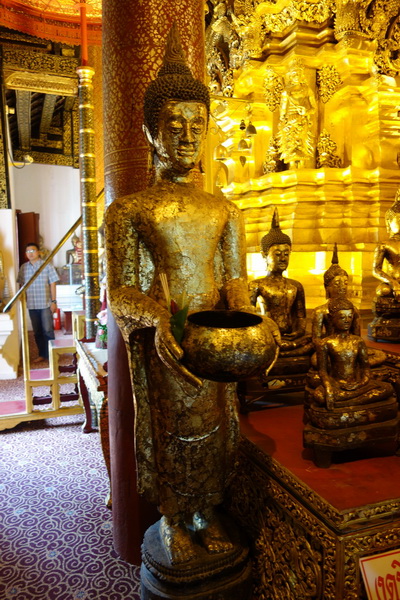 If you are interested in joining the (traditional) activities of the temple, here are some.
Dhamma Practicing
Srong Nam Phra Baromthat
Making Merit To Buddhist Monk
Dhamma Listening
How to get there 
Wat Phrathat Sri Chom Thong is located in Jom Thong County of Chiang Mai, as the article has said above.
The temple is located some 60 kilometers South West of Chiang Mai. There are two different ways to get there. The first way is to drive your own car. If you start your trip from Chiang Mai Town, you just have to keep going along the Highway  No.108.  Just keep going until you find Wat Phrathat Sri Chom Thong on your left side.
The second way to go is to take a red truck in Chiang Mai, which the travel fee is probably somewhere around 20-30 Baht. Just tell the driver where you want to go.
Note : Not accessible for wheelchair user
Our services :
Private tour to Wat Phrathat Sri Chom Thong
Price/Car

Pickup Time

Depend on your requirement
Phrathat Sri Chom Thong Temple Map