Pho Khun Ngam Muang monument 'One of the greatest kings'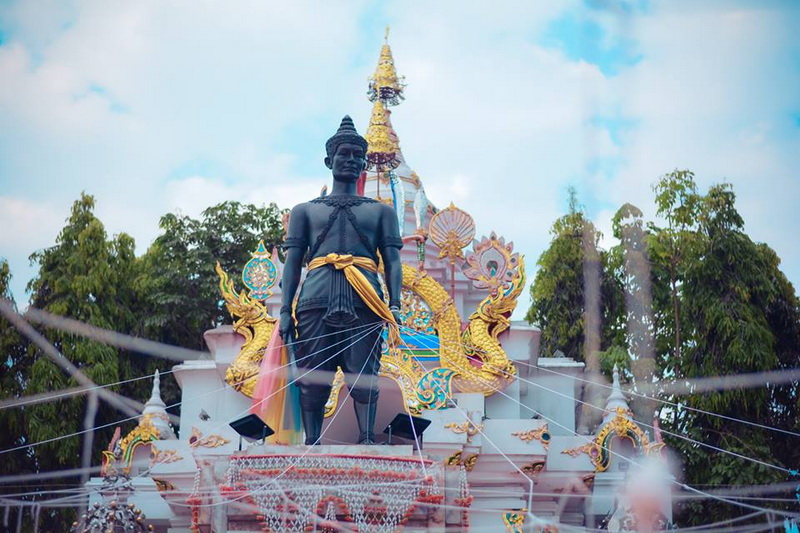 Let's visit a historical place in Phayao.
Pho Khun Ngam Muang Monument is located at the park in front of Kwan Phayao Lake. This represents the greatness of Pho Khun Ngam Muang, the 9th king of Phukamyao(or Phayao).
Pho Khun Ngam Muang was the son of Pho Khun Ming Muang. He reigned from 1258 to 1298. During his period, Phayao was very advance. The king himself was a good king. He hated wars, love Buddhism, and always watched over his people with pure heart. He also befriended with nearby countries. He made Phayao one of the 3 large kingdoms of Thai ethnic groups: Lanna Kingdom, Sukhothai Kingdom, and Phayao Kingdom.
Pho Khun Ngam Muang was also a good friend of Pho Khun Mengrai of Chiangrai and Pho Khun Ramkhamhaeng of Sukhothai.
The legend also says, Pho Khun Ngam Muang was a powerful person. Wherever he went, there would be no heavy rain or harsh sunlight. He was the one who made Phayao a plentiful place to live.
As Phayao was registered as the 72nd province in 1977, villagers gathered their hearts and built a monument for Pho Khun Ngam Muang. The statue is made of bronze and has a half of the real height of the ing. The statues wears king costumes and crown. He also holds a sword in his hand. His face turns to Kwan Phayao.
Pho Khun Ngam Muang monument is a real heart-gathering centre of Phayao villagers. Many villagers and lots of tourists love to go to his monument and pay respec to his statue. Annually, on March 5, there will be a special ritual. The ritual is to worship Pho Khun Ngam Muang. The date exactly matches his birthday. Therefore, the ritual will always be enormous and stunning. You should attend the ritual too. The heart of the ritual is to sacrifice the soul of Pho Khun Ngam Muang, wishing that his soul will be with Phayao villagers forever.
Phokhun Ngam Muang monument appears as a small shrine in the middle of concrete lot. There is a white shrine behind the statue. You have to walk along the front stairway to get to the statue. Don't forget to take off your shoes first. In front of the monument, there are several animals statue.
How to get there
Just use the same route to Kwan Phayao Lake, which is getting into the heart of Phayao first. Look for the road of Pratoochai and Phahonyothin. Continue straight. Look for Kasikorn Bank and turn left. Keep going along Ta Kwan Road then you will reach Kwan Phayao. Pho Khun Ngam Muang monument will be in the park there. Just look for it.
Our services :
Pho Khun Ngam Muang Monument Map