Rassadapisek Bridge Lampang
5 Reasons why you should visit Rassadapisek Bridge 'The bridge that is no ordinary bridge'
Rassadapisek Bridge is an important tourist attraction in Lampang. And if you want to know why, then see these following reasons. With these reasons, you will want to visit it too.
Rassadapisek Bridge is a thing that connects to World War 1 and World War 2. During these periods, the bridge was painted, in order to trick the enemies that it had nothing to do with any strategic ways. For that reason, the bridge survived the bombs. You should visit the real place to think about its old days. It will be your good knowledge, worthy of keeping.
The scenery at the bridge is very beautiful, as the bridge goes over Wang River. You can see water can trees all around you.
You are allowed to get on the bridge to have a sightseeing and take photos. Therefore, you will have lots of photos to show to your friends.
The white bridge is strong enough for you to get up there and for cars to cross from one side to another. In the past, the bridge was made of wood, but it was renovated with concrete and steel in the year 1917.
This bridge is safe for you to walk on. There are poles dividing the road and the walking paths of both sides from each other. Don't worry. You're not going to be hit by a car.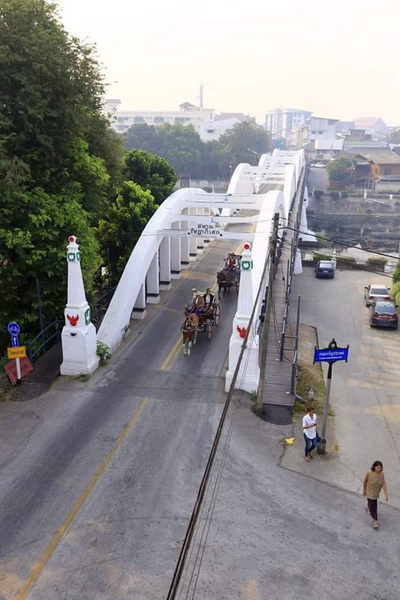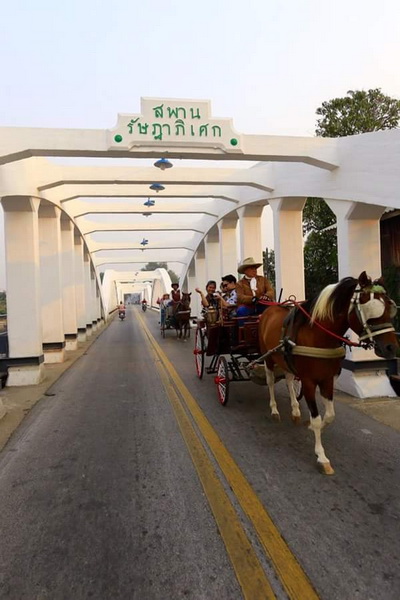 Anyway, you will need to walk carefully when you visit this bridge. Don't just enjoy taking selfies so much that you forget to watch where you're going.
How to get there 
The Rassadapisek Bridge is located in Hua Wiang District, Muang County, Lampang province. If you want to have a sightseeing, of course you can't take your car there, as there will be no parking lot for you. Instead, you should hire a truck or a wagon to give you a ride. A wagon will be best, as you will have a tour around the town first, before crossing the bridge and see how beautiful it is.
Opening hours and Entrance fee : Opens daily 24 hr. No entrance fee
Note : Wheelchair user is accessible
Our services :
To visit Rassadapisek Bridge, you can combine this program.