Chae Son National Park 'A Quiet and Peaceful Place in Northern Thailand'
Chae Son National Park is a rich mountainous forest located in the northeast of Lampang province. It is situated in the districts of Muang Bahn and Jae hom and covers an area of about 592 square km.
Before Chae Son became the National Park it was a Forest Park which had two names Eang Nam Oun and Chae Son Waterfall The latter naming it after one of the Parks Waterfalls. Ministers approved the promotion of tourism in Lampang province and the go ahead was given to convert Chae Son Waterfall into a National Park.
Preparations were made from May 1986 to December 1987 for the celebration of the Kings 60th birthday at Chae Son Waterfall on the 5th December 1987.
The Park was officially surveyed by Royal Forest Department staff soon after this and led to a decision by the board of directors, which in turn led to the Royal Decree that officially turned Chae Son into a National Park on 28th July 1988, becoming Thailand's 58th National Park.
Geography
The national park is a mountainous area with 81 degrees Celsius hotspring over rocky terrain, providing a misty and picturesque scene.
Climate
Rainy season is from May to October, winterseason is from November to February and summerseason is from March to April. Usually, tourists canvisit the national park all year round.
Flora and Fauna
Mixed deciduous forest and deciduous dipterocarp blankets the park with various plants including Afzelia xylocarpa, Chukrasia tabularis, Toona ciliata,Diospyros pubicalyx, Lagerstroemia calyculata, Dipterocarpus alatus, Pinus merkusii, P.kesiya,Pterocarpus macrocarpus, Shorea obtusa, S.siamensis and D. obtusifolius.
The park is home to animal such as CommonMuntjak, Mouse Deer, Common Wild Boar, AsianGolden Cat, Siamese Hare, Southern Serow, Malayan Flying Lemur, Langur, Macaque, Porcupine,Bear, Squirrel and Treeshrew.
Various kinds of birds such as White-rumpedShama, Red Junglefowl, Woodpecker, Hawk, Bulbul,Barbet, Tailorbird, Green Pigeon, Warbler, Babbler,and Dove.
Annually, there is a number of cicada conglomerating near the hotspring. People believe that theycome to consume mineral water here.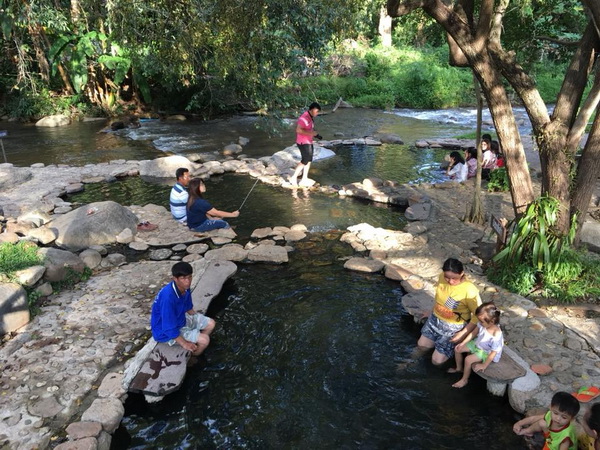 Tourist Attractions at Chae Son National Park
Chae Son Waterfall:

 Chae Son Waterfall, originating from MaeNam Mon is full of water all year round. The 6 levelwaterfall cascading down the cliff to large naturalpool on each level. It is not far from the NationalPark office. The waterfall can be accessed only 1kilometre by walk from the parking area.

Enjoy Dok Siew:

 Dok Siew, Bauhinia tenuiflora Watt ex Clarke of family Caesalpiniaceae, blossoms in February every year in the mountains of Par Miang Village, about 18 kilometres from Jae Son National Park Office. The wild flower decoratively blossoms all over the mountains in which traveler can drive to enjoy its beauty.

Chae Son Hot Spring:

 comprise of 11 rooms for relaxing in large pools of spring water and 16 rooms for taking a Thai style bath. The rooms are all linked by pipes to the hot spring. Bathing in the water is said to be good for healthy blood flow. You will have to pay to use these rooms.
Doy Lann View Point: Doy Lann View Point you can see beautiful natual and enjoy with camping area.

Mae Peak Waterfall:

 Mae Peak Waterfall, one of the beautiful waterfalls is the 3 level waterfall with 100 metres high. It is easily access and only 3 kilometres from the national park office.
Mae Mawn Waterfall: is fast flowing with a high fall comprising of many steps. It is 5km from the headquarters by dirt track.

Mae Koon Waterfall:

 close to Mae Mawn waterfall, falls over 100 m and flows into the same river as Mae Mawn.

Pha – ngam Cave:

 is located at substation 2 which is 8km from wahng Nua district. Substation 2 in about 60km from the headquarters In this area there are many caves which tourists can visit, others include; Nam Cave, Mor Cave, Luang Cave and Loug Kae Cave.
Facilities
The park has a visitor centre, 10 bungalows and 2 dormitories (youth hostels). There is also a meeting room, and a camping site where equipment can be rented. There is a park restaurant. There are also 10 or so privately run food and snack stalls.
Contact address
Chae Sawn National Park
Tambon Chae Sawn,Muang Bahn district, Lumpang Province.
Phone: 054-380 000, 089 851 3355
How to get there
Chae Son National Park is located about 66km from Lampang province. There are two ways to get to the Park which are accessible all year round.
Starting from the sports stadium in Lampang. Follow the Lampang – Harnchad road, at the T-Junchtion in Ban Nam-Tong turn right and follow road number 1157 (Lampang-Huai bang-Muang Bahn) for about 55km then turn right onto road number 1287 (Muang Bahn-Jae Hom). Travel for about 2km then turn left onto road number 1252 (Kuang Kom-Pang Fairng) it's about 11km to the headquarters. In total about 65km.
Travel from Lampang on road 1035 (Lampang-Jae Hom) to Jae Hom, about 58km Then turn left at the T-Junction at Ban Pongkob and follow road number 1287 (Muang-Jae Hom) for about 6km . Then turn right onto road number 1252 and follow it for 11km to the headquarters. In total about 75 km.
Opening hours and Entrance fee : Opens daily from 8 am until 6 pm. Admission is THB 200 per adult and THB 100 per child and THB 30 per car.
Note : Wheelchair user is accessible for some place.
Chae Son National Park Map