Wat Pong Sanuk 'The UNESCO Award for the Preservation of Cultural Heritage'
Wat Pong Sanuk is a beautiful temple built in a mix of Lanna and Burmese Shan styles. The temple that is also called Wat Pongsanuk Tai was built in 1886 by wealthy Burmese immigrants employed in the teak logging industry.
Pong Sanuk temple was also the place where the city first sacred pillar was laid. The name of the temple according to legend comes from the Pong Sanuk community that migrated to live in this area. Literally, Pong Sanuk in Thai means "the clan of fun".
It's something that most foreign tourists won't want to deny. If you're a foreign tourist and interested in this temple, thinking about visiting it, then these are what you'll get when you reach there.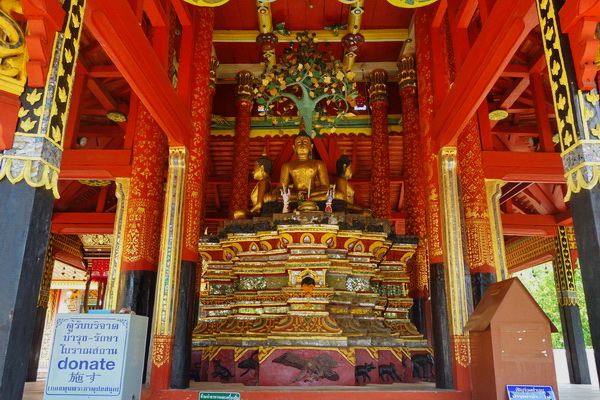 You will feast your eyes with an evidence of a UNESCO prize. Yes. Wat Pong Sanuk received 'Award of Merit' from UNESCO in the year 2008. This is a pride of Thailand and foreign tourists should go and proof. Proof what? Of course, proof how beautiful the temple is.
You will have time to learn some parts of Thai history. The temple is very old. According to the legend, it was built in the year 680. As you walk around, you may search for some articles on the internet and read them at the same time, trying to think about the past and feel it. The knowledge that you get from learning history can be applied to your life in present days.
Wat Pong Sanuk shows an outstanding combination of Lanna, Burmese and Chinese Styles. One of the most prominent features of the temple is the multi-layered roof and cruciform-shaped pavilion of Viharn Phra Chao Phan Ong.
Its tiled roof is a three tiered Burmese design, the ends decorated with golden stylized Naga serpents. The viharn's interior is decorated with Lanna style floral motifs carved in teak wood. The viharn's upper walls are lined with hundreds of votive Buddha tablets, of which there were originally over a thousand. At the center of the viharn, set on a high pedestal are four seated Buddha images sitting back to back, facing all four directions.
Behind the Viharn Phra Chao Phan Ong is the second viharn on the mound. This viharn houses a large Reclining Buddha image, which symbolizes the passing of the Buddha into final Nirvana.
A small museum exhibits hundreds of Buddha images, including seated, walking and reclining Buddhas in several mudras (hand gestures). Some of them are hundreds of years old. Also on display are ancient hand written scrolls that were found during the restoration works.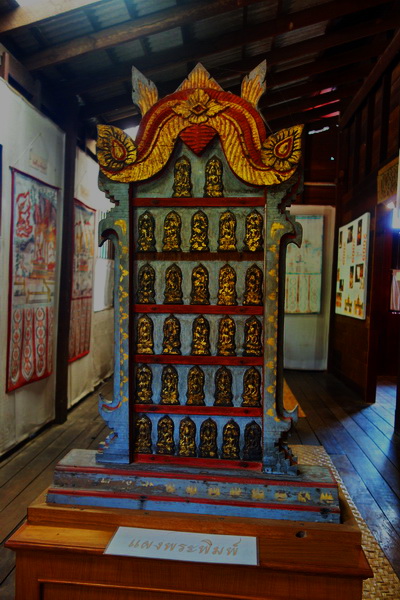 You have a lot of nice photos to show to your friends. The temple consists of two zones: Wat Pong Sanuk Nua and Wat Pong Sanuk Tai. The two are near each other. There are many beautiful architectures at the temple, for examples, Khong Gate, the ubosot, Thousand-God Vihara, the lied-down Lord Buddha statue etc. You can take photos of those things and upload to your social media sites.
You will have time to spend with yourself. As the temple is quiet and peaceful, you won't feel nervous. You should feel relaxed and have some moments to think about many things.
If you visit the Pong Sanuk temple with your family, you all will have a great time together.
How to get there
Wat Pong Sanuk is located in Wiang Nua District, Muang County, Lampang Province. Go amd cross Rassadapisek Bridge. Reach for the intersection and turn left to Pong Sanuk Road. Keep going straight for a while and you should find the temple in no time or you can contact tour agency in Chiang Mai to arrange a private tour for you.
Opening hours and Entrance fee : Opens daily from 05.30 am until 20.30 pm. Admission is free.
Note : Wheelchair user is accessible for ground temple.
Our services :
To visit Wat Pong Sanuk, you can combine this program.