Pa Tueng Hot Springs : 'How about warming yourself in a natural hot pond?'
Chiang Rai is located in northern Thailand, where the climate is mostly cold. There is no wonder if there are going to be some hot springs as tourist attractions. 
Hot springs are good for both your body and mind. They can stimulate your blood circulation. They can cure some dangerous diseases, for examples, skin diseases. They can make you feel comfortable. They makes your skin soft. Just imagine yourself soaking in any of them, in the middle of nature. Won't that be nice?
These hot springs are 100% natural. They originate from the heat under the ground. They consist of many types of minerals. That is the reason why they do you good. 
Now that if you're looking for a tourist attraction with hot springs in Chiang Rai, in order to warm yourself, avoid cold weather, but you still don't know where to go, then you may interested in this place.
'Pa Tueng Hot Springs' is something that you're going to love for sure. If is a must-go tourist attraction when you're in Chiang Rai.
Pa Tueng Hot Springs is alson known as 'Huao Hin Fon Hot Springs'. It is a quiet and peaceful place for every families. If you're going to have long holidays, you should start planning for reaching there. It will be lovely.
It may not be enormous like San Kamphaeng Hot Springs in Chiang Mai, or somewhere else, but it is definitely a good hot spring. The scenery is nice. The atmosphere is nice. The water is clean. The resting spots are comfortable. Everything is great.
The water at Pa Tueng Hot Springs is about 70-109 degree Celsius hot. The height is about 10 metres. As soon as you arrive at the place, you should see a big concrete base surrounding it. That is a beautiful sight, the water springs from the underground area all the time. Be careful not to get too close to it, or your skin will be cooked. 
You may have a sightseeing around the place, have a little picnic, and take photos. Sitting in a wooden pavillion in the middle of water is great. Or, you may want to take a bath in a mineral pond, which is absolutely available at Pa Tueng Hot Springs.
At Pa Tueng Hot Springs, there is a building for mineral water bathing especially. You can choose any type of the rooms you like. There are normal rooms, VIP rooms, bathing rooms, bowl-bathing rooms.
The more you read these details, the more you want to go, probably. However, here are some rules to follow if you want to go to a hot spring, wherever it is, just for the happiness of every tourists, including you.
As always, don't be too close to a hot spring, because it will be too hot.
Don't pollute water. If you eat something, don't drop your litter into it.
Don't jump into water, as that will annoy other tourists. Remember, a hot spring is not a swimming pool or a lake.  It is not for swimming, but mostly for bathing and soaking.
If you use a mineral bathing room, you have to keep it clean, as other tourists have to use it too.
Lastly, if you want to know more about Pa Tueng Hot Springs, you may contact the District Office of Pa Tueng directly, via 053-772577.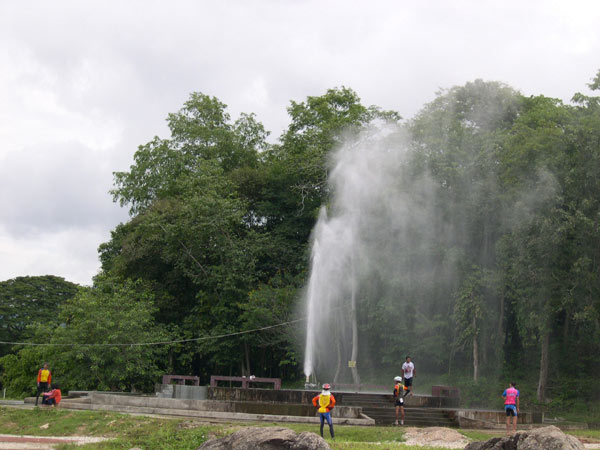 How to get there 
Pa Tueng Hot Springs is located at Ban Pa Tueng, Area 11, Pa Tueng District, Mae Chan County, Chiang Rai Province.
To get there, it is not difficult at all. It is about 700 metres away from the District Office of Pa Tueng and next to Mae Chan – Fang Road. You will notice it in no time. In fact, it is an important tourist attraction of Pa Tueng District, which most drivers love to stop by to relax themselves during their trips.
Now, if you want to go there, you should be in the heart of Mae Chan first. The you head for Pa Tueng District by keep going straight along Mae Chan-Mae Ai Road. It won't be too long. Just about 10 kilometres, you will find a sign written the direction to Pa Tueng Hot Springs on your left side.
Opening hours and Entrance fee : Opens daily from 9 am until 6 pm.  Admission is 100 THB
Note : Wheelchair users is accessible