Mae Chan District – Attractions in Mae Chan
Mae Chan is a town and a district (amphoe) in the northern part of Chiang Rai Province, northern Thailand. Neighboring districts are (from the north clockwise) Mae Sai. Chiang Saen, Doi Luang. Mueang Chiang Rai and Mae Fa Luang of Chiang Rai Province.
Mae Chan township is located 30 kms north of Chiang Rai city. By-passes to the south-west to Mae Ai. and Highway 1 to the east leave most travellers unaware of the extent of this rural town. It has some nice restaurants and several resorts, and is worth exploring. Route 1016 diverts east to Chiang Saen at the northern end of town
Mae Chan serves as a trading post where the Akha. Lisu and Yao hill tribes sell their goods and buy manufactured items. Silver and other tribal handicrafts are available at local shops.
Doi Hua Mae Kham
Doi Hua Mae Kham is the domicile of the hill tribes near the Thai-Burmese border, about three hours by road along the Mae Chan-Ban Thoet Thai-Ban Huai In route which winds along the steep mountain edges. The inhabitants are predominantly of the Lisu tribe, with a smattering of the Akha, Hmong and Muser tribes. Doi Hua Mae Kham is most spectacular in November when the yellow wild sunflowers are in full bloom.
Choui Fong Tea Plantation
Choui Fong Tea Plantation : You will absolutely fall in love with it if you go. The scenery around Choui Fong Tea Plantation is really beautiful. You will see millions of tea plants being grown in descending lots. And you will also see valleys from a great distance. There is a restaurant available for service. You can have cool drinks like green tea smothie, ice green tea, and yummy desserts like green tea cake, green tea rolled cake etc. As a suggestion, you should sit on a terrace just to inhale the sweet smell of the air and have a sightseeing while enjoying your foods.
Par Tung Hot Spring (Huay Hin Fon Hot Spring)
Huay Hin Fon Hot Spring : Located at Ban Par Tung Moo 11, Tambon Par Tung, Amphoe Mae Chan, Chiang Rai that between the way to Doi Mae Salong (New road) on Highway No. 1089 (km.78). The tourist can take about 8 kilometres from Mae Chan District and has beautiful tropical scenery.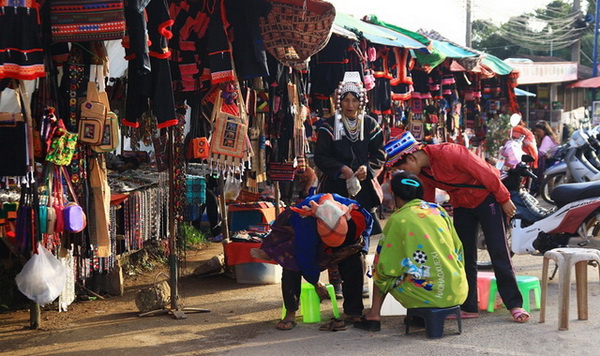 Hilltribe Development and Welfare Centre
Hilltribe Development and Welfare Centre, located some 15 kilometres along Doi Mae Salong Road, aids and administers local hilltribe settlements. Hilltribe handicrafts, including woven cloth and silverware, are available for purchase.
Laan Tong Mekong Basin Cultural Park : Located at 99 Moo 13, KM 12, Taton- Partung Rd., Tambon Partung Amphoe Mae Chan See the beauty of nature surrounding with forest and plenty of beautiful flowers. Amazing with the largest gong in the world, watching the 6 grand nations performance. Historical with ethnic group of Mekong Basin, refreshing with our waterfall. Fulfill your desire with delicious foods at Laan Tong Mekong Basin Cultural Park.
Open Daily : 08.00 A.M. – 06.00 P.M. Show : Morning 11.00 A.M. Afternoon 02.00 P.M.
Wat Tham Phra Archa Tong (The monk straddle a horse to receive food)
Wat Tham Phra Archa Tong : About 20 kilometers Northwest of Mae Chan in Northern Thailand is a very special Temple nestled in the mountainous jungle called Wat Pra Archa Tong is the one in "unseen Thailand" that is Tourist-oriented culture of Chiang Rai locate on Tambon Sri Kham. The Abbot in this Temple was a former Thai boxer, and he takes in orphaned and difficult children from near the Burmese border and teaches them the "skills of life." The Abbot has 200 sturdy Thai horses which the young monks use to collect alms in the early morning, and in the evening, they are all practicing their "Muoy Thai" boxing skills in the boxing ring. At 06.00 a.m., the young monks and their elder leaders climb on their horses and head off into the mountains around 40,000 farms. It is surely one of the most enchanting images of man living in harmony with nature that you can find in Thailand today.