Baan Sao Nak is an ancient wooden house.
Baan Sao Nak 'Check-in, snap some old-styled photos'
Feeling so bored at the moment? Then let's grab your friends' hands and head for some place cool.
Speaking of 'some place cool', surely we can't skip 'vintage tourist attractions'. Vintage tourist attractions are quite popular nowadays. We're in modern age with many hi-tech gadgets. Therefore, many people start to think about old things. And if you love such things and want to visit somewhere else too, then Ban Sao Nak is your suggestion.
In Lampang, there is a museum call 'Baan Sao Nak'. Many tourists know it because of its Lanna-Burmese wooden houses. It was built in the year 1895 by 'Mhonh Chang Ong', a wealthy vendor. It's a very nice place to take people whom you love with you to learn about old things in the past together.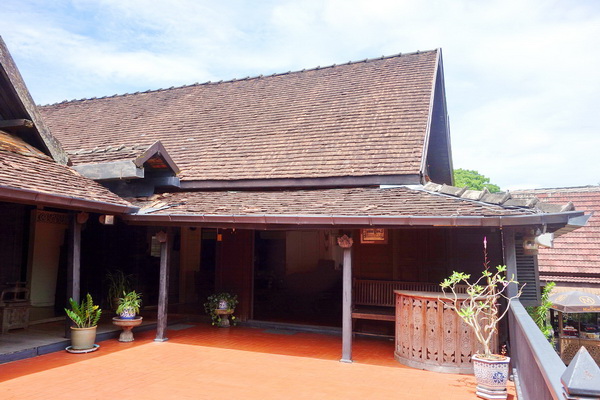 Ban Sao Nak is supported by 116 square teak pillars. The area of the house is around 3 Rai, consisting of large houses in group, garage, and granary. The architecture of this house is combination with Myanmar and Lanna Style. The balcony is influenced by Myanmar architecture; whereas, the roof and the general structure is built in Lanna style.
The inside of Ban Sao Nak displays ancient appliances which were used in northern people's lifestyle in the past; for example, the support on an elephant or Chao Luang Lampang's seat on the elephant's neck, ancient casket, machine for creasing cloth, iron coffer, lacquer ware, silverware, and silver Lanna container of areca nut. In addition, there are the picture of Chao Dara Rasami and the picture of the first generation of the house owner on the wall. There is also a Lanna granary outside and nearby the house. These stuffs are displayed everywhere in the house, waiting for the visitors to study and admire.
You are allowed to get inside admire those ancient items and artworks. You can take photos and show to your friends. You will see how nice an old house is. Just be careful not to touch anything. There are many fragile items.
There are also garden around the houses. You can go and fill your lungs with sweet smell of the air. After that, you can buy some food and drink to eat at the shop, which is in the museum.
Entrance fee & opening hours
You can visit Baan Sao Nak everyday from 10:00-17:00. The admission fee only costs 30 Baht.
How to get there
Ban Sao Nak is in Lampang downtown. To reach it, just cross Rassadapisek Bridge, turn right at Rassada Market Intersection, continue straight, look for the sign that leads you to the museum, and follow the sign. If you do not have car, you can contact us to arrange the private package which suitable for your group or you can book the car rental with driver to manage your own plan.
Opening hours and Entrance fee : Opens daily from 10 am until 5 pm. The admission fee is 50 THB for foreigners and 30 THB for Thai people.
Note : Wheelchair user is accessible
Our services :
To visit Baan Sao Nak, you can combine this program.