Wat Phra That Chom Kitti 'Another valuable and old temple'
If you don't know a relaxing spot to stop by at Mae Hong Son, then Wat Phra That Chom Kitti may answer your need. It consists of quiet atmosphere and some nice architectures. Anyone can go there. You can take your friends, you family, or anyone you love with you.
This temple is also called 'Wat Phra That Chom Ma Kitti'. The legend says, it was built in the year 1713.. The area is about 11,200 square metres. Not too big and not too small.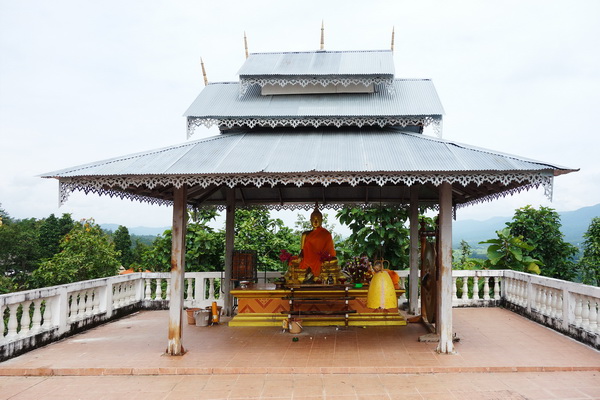 Of course, the temple has a part of Lord Buddha's relics. The relics is inside the white Lanna pagoda. People often pay respect to this, for their own good fortune. You should do that too if you have enough time.
Villagers around there belive that the temple is holy and can protect them from various kinds of dangers. The belief has been being exist for centuries.
Wat Phrathat Chom Kitti is surrounded with nice atmosphere. There are trees, mountains, and grass. A quiet community, consisting of little houses, can be found below the mountains. Also, water resources are there.
How to get there
Wat Phra That Chom Kitti is located at Ban Chom Kitti, Area 13, Mae Sariang District, Mae Hong Son Province. Start from the Yuam River bridge. Keep going until you find your way to turn left to the Highway No.1194. Continue straight. During this, you should pass Wat Nam Dib. After 500 metres, there will be the direction to Wat Phrathat Chom Kitti. You need to be very careful. The road on this path is not very smooth, but instead quite rough. If you drive too fast, your car may lose control and you may get a serious accident. another way for more comfortable and do not worry for getting lost, please contact us to arrange the private tour package to you.
Entrance fee & opening hours : Opens daily from 6 am until 7 pm. There is no entrance fee
Note : Wheelchair user is accessible
Our services :
For this place on the way to Mae Sa Riang District, you can combine this program.
Wat Phra That Chom Kitti Map