Mae Chok Hot Spring 'Fun of bathing hot mineral water for people of all ages'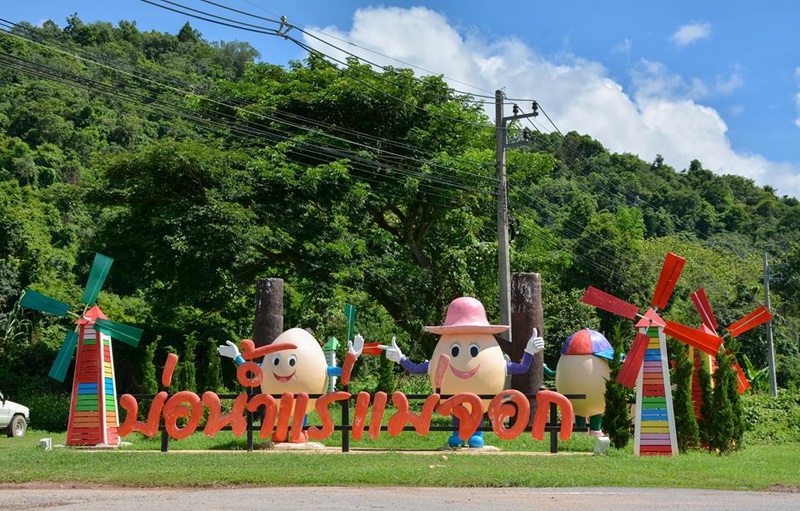 How about soaking your body in a nice hot spring with your family? Won't that be nice.
Hot spring is very popular in northern Thai provinces, including Phrae. Most tourists must visit a hot spring when they step into a northern Thai province.
Hot spring is good for both your health and skin. Therefore, if you're looking for a hot spring in northern Thailand to have fun with your family, then this following one may be your choice "Mae Chok Hot Spring".
Mae Chok Hot Spring is not very big, but surely a lovely one. It's quiet, relaxing and surrounded with gardens, trees, and mountains. There are different hot mineral ponds for you to choose. You can just sit, relax yourself on a pond edge and dip your feet in the water, or you may just take a bath in a bathing room. For mineral bathing, there are two different types: soaking room(where you can get your whole body into the water) and bathing room.
Hot spring is good for people of all ages. If you have small children, they can enjoy the hot spring too. Also, elderly people can still have fun. You just have to watch them very carefully.
After finishing bathing, you can require a Thai massage service too. This may be good to adults, especially to elderly ones.
The activity that your children and you will love most is 'egg boiling'. There are in-basket eggs for sale. You just buy some of them and boil them in the hot spring. Isn't that cute? After they're cooked, you can eat them. Delicious! That gives you a new feeling of eating eggs.
How to get there 
Mae Chok Hot Spring is located in Wang Chin County, Phrae Province.
To get there, you just have to drive along the Highway No.11. Try to reach for Wang Chin County by following the signs. That's not difficult. Most hotels or Travel Agency in Chiang Mai and Phrae will be able to book one for you.
Opening hours and Entrance fee : Opens daily from 8 am until 5 pm. Admission is 30 THB
Note : Not accessible for wheelchair user