Komol Ancient Fabric Museum 'see all of the magnificent costumes of Thai fashion'
If you have ever watched Thai TV period series like 'Sarp Phusa' or 'Qipao', you probably be interested in ancient fabric, as these shows present many beautiful pieces of ancient fabrics, all of which are valuable and beautiful. Beside, you may wish to see these fabrics for once in lifetime.
Of course, you can. To see ancient fabrics, you can visit an ancient fabric museum. If you don't know where to go, then Komol Ancient Fabric Museum may make you happy.
Komol Ancient Fabric Museum was established in 1992 by Mr.Komol Panichpan, who's an ancient fabric collector. He fascinates and collects various types of ancient fabrics, mostly from Long Town and nearby communities. At first, he set up a traditional technology centre in the honour of Queen Sirikit. Later, he developed to centre, transforming it into this ancient fabric museum.
This fabric museum is a good learning centre for people of all ages, including your children. You can get them there to help them learn how valuable these fabrics are. These fabrics are very rare and may not be seen anymore in the future. Therefore, it should be preserved by letting new-age children admire them. If they see the beauty of these fabrics, they can tell others about them, And these fabrics aren't going to be gone.
There are 5 different zones at Komol Ancient Fabric Museum.
Wiang Ta Art : This zone presents you various artworks made of dust color being applied on wooden sheets. These sheets are made into house walls later.
Long Town Ancient Fabric : You will find the ancient fabric called 'Zin Teen Jok' at this zone.
Zin Teen Jok : To find Zin Teen Jok fabric from other origins, you must visit this zone.
Fabric Care Tutorial Zone : This zone teaches you how to care for ancient fabrics, how to make them long last. Some ancient fabrics can even exist for over 200 years, if they're taken care properly.
Shop Zone : You can shop for souvenirs at this zone.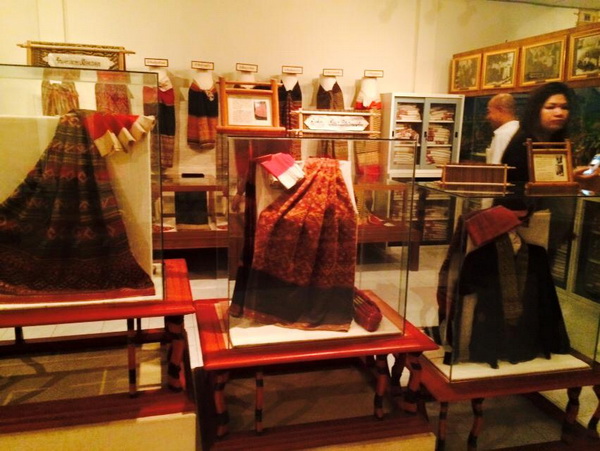 The museum is open everyday, from 9:30-17:00. The admission fee is not required.
How to get there
The Komol Ancient Fabric Museum is located in Huai Ao District, Long County, Phrae Province.
You can start with Phrae Airport. Get out of there and turn right until you reach the hospital intersection. Then turn left then pass two traffic intersections and Phrae Technical College. Keep going and cross Yom River Finally, you should continue straight for another 40 kilometres to reach Long County. You will find your museum on your right side if you still worry for getting lost, you can contact travel agency to arrange the car rental with driver for you.
Opening hours and Entrance fee : Opens daily from 9 am until 5 pm. Admission is free.
Note : Not accessible for wheelchair user
Komol Ancient Fabric Museum Map