Khum Chao Luang 'A Fascinating Museum in Phrae'
Khum Chao Luang 'Track the deep feelings from the Thai TV period series.'
Are you and your family fans of the Thai TV period series, example 'Roi Mai'? If the answer is 'yes', then you guys must never miss this place. Just book plane tickets and get there fast.
If you still remember, the main filming location of the series is a Thai old-fashioned house, which is in fact 'Khum Chao Luang'. Yes. The house is very glamorous and give a stunning feeling for the series.
You won't wonder why the house was chosen. Of course, who won't want to take a look at such beautiful traditional architecture, right?
Khum Chao Luang museum is covered in white and pale-green. It's quite large and there are carvings all over. It's mainly made of brick and concret, but some parts, for an example, the roof, consist of wood.
There are two floors, but there is also a space under the house. Therefore, to get inside the house, one must get a stairway. There are two stairways of the house, at the front side and the back side.
Khum Chao Luang was once the shelter of King Bhumibol and Queen Sirikit during their royal duties in Phrae in 1958. Not only that, the house was also rewarded by Princess Sirindhorn as a valuable architecture.
You can walk outside to take a lot of photos, as there are many beautiful trees and gardens. You can get inside too, of course. You will see a lot of old photos, texts, bank notes, coins, utensils, furnitures, and many other things that can tell you the history of this house.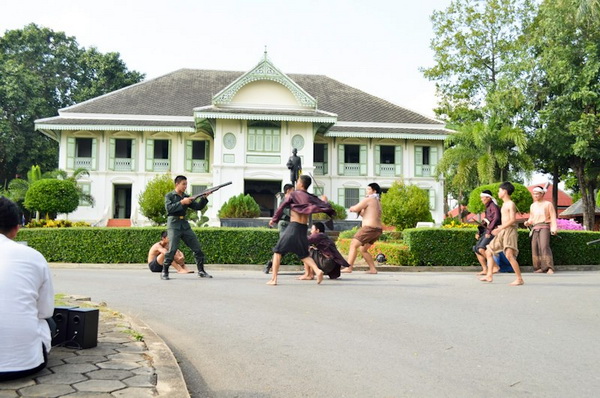 Be careful when you're in the house, especially if you're with small children. Don't let them run around or touch anything. Always keep your eyes on them. Every items in the house are very old and valuable. And you yourself, photography may be prohibited at some areas, therefore be careful about that.
For better experience, you and your family may dress in Thai vintage cloths to suit the style of the house. Then don't forget to take a lot of photos. By doing so, you will feel as if you're in the series or travelling back through time.
The Khum Chao Luang house welcomes you everyday, from 8:30-17:00. You and your family will have a good time for sure.
How to get there
The house is located in Nai Wiang District, Muang County, Phrae Province.
To get there, it's best for you to drive alon the Highway No.101, in order to reach Phrae. Keep going until you find the proper way to turn left to Charoen Muang Road. Keep going along the road for about 1.2 kilometre. After you reach the roundabout, turn left to Khum Doem Road and keep going for another 100 metres. In a hot second, you will find Khum Chao Luang on your right side or you can contact us to arrange the private tour package for you.
Opening hours and Entrance fee : Opens daily from 8.30 am until 5 pm. Admission is 30 THB
Note : Not accessible for wheelchair user