Erawan Waterfall 'Clear water with schools of fishes'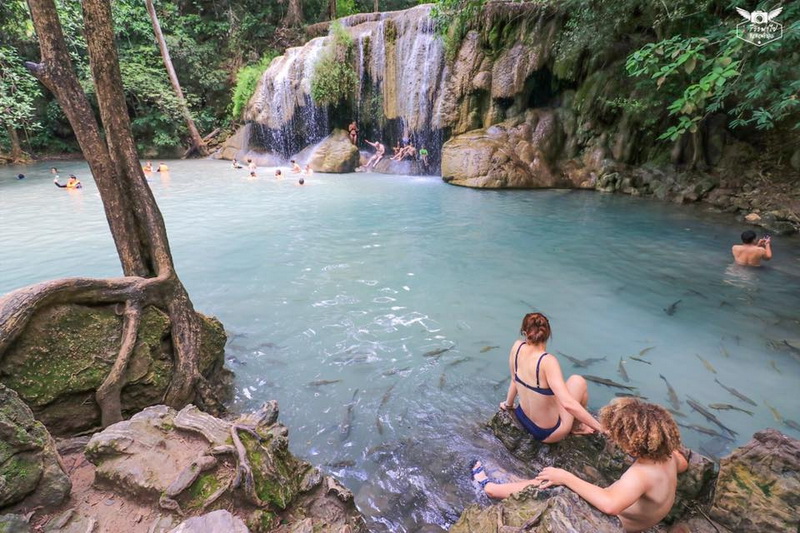 It's not a bad idea to get away from hot weather and temporarily move to a nice cool waterfall instead.
Therefore, let's get to know Erawan Waterfall in Kanchanaburi Province.
Erawan Waterfall is a waterfall of 1,500 metres height, which has 7 levels, consisting of 'Lai Kuen Rang', 'Wang Matcha', 'Pha Nam Tok', 'Oak Phee Sua' , 'Bua Mai Long' , 'Dong Prueksa' , and 'Phu Pha Erawan'.
The most interesting part is probably the first level, Lai Kuen Rang. The water at the level is blue and green. It's so clear that you can even see school of fishes. That's such a beautiful image, especially under the sunlight. Get your camera and take some photos.
If you feel kinda hot and want to feel cool under water drizzle, you may want to step up to the 2nd level. At the level, you will see white water curtain. The water curtain provide cool water drizzle and splash all the time. You can get behind the scene to see the beauty of it closely and cool down your mind.
Around the waterfall, there are woodlands. There are nature-exploring paths available for tourists, which you may choose to join one. Each one takes about 30 minutes. Go with your friends. It will be fun. You will walk through the woodlands relaxedly
If you hate walking a lot, you can just sit on a rock to have a little picnic or take lovely selfies, but try not to sit too close to the water and always keep the area clean.
If spending a day isn't enough for you, then let's spend some nights. The waterfall is located in the area of a national park. There are plenty of shelters and tents for you. There are also shops and restaurants. That will be convenient. For more details, you may contact 0 3457-4222 or 0 3457-4234.
By the way, the admission fee is even less than 100 Baht. For an adult, it costs 40 Baht. Fo a child, it costs 20 Baht.
How to get there
The Erawan Waterfall is located in Sri Sawad County. You have to drive along Phetkasem Road for about 120 kilometres to reach the heart of Kanchanaburi. Then you keep going on the Highway No.3199 until you find your way to cross the bridge that leads you to Srinakarin Dam Market. After you cross the bridge, soon you will enter the area of Erawan National Park.