Damnoen Saduak Floating Market 'Enjoy shopping and mind relaxing in country style.'
Speaking of popular and famous floating markets in Thailand, surely tourists can never ignore 'Damnoen Saduak Floating Market.
Damnoen Saduak Floating Market is located in Ratchaburi Province. It is even one of the eldest market places in Thailand.  If you love to spend your holiday by visiting some ancient places or places in country sides, this market should full-fill your need.
First, you will find yourself in the middle of local vendors selling things. Some of them do that by paddling boats. This is such a lovely and heart-warming image.
You can buy many types of things at the market. You can find fresh fruits, utensils, food, or handicrafts. Both Thai and foreign tourists love these very much. Therefore the market is very important to the tourism of Ratchaburi.
There are always many tourists at the market. The atmosphere is always joyful. It may not be very big, but it's surely a good place.
Beside of buying your favourite things, you may want to have a sightseeing in a boat. You can rent a tour guide boat for about 400-600 Baht. Each boat can contain about 6-8 passengers. By renting a boat, you will be taken around the market for almost an hour. For more details, you may contact the tourist service centre of Damnoen Saduak County.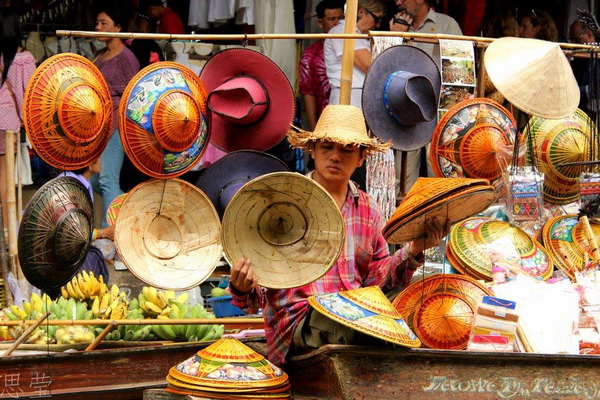 How to get there
You may drive along the Highway No.4. This route should make you pass Bangkae, Suan Sam Pran, Nakhon Chaisri, and Nakhon Pathom. After you reach the 83rd kilometre, you should find your left way to switch to the Highway No.325 instead. Continue straight along the route for about 25 kilometres. Then cross Thanaratch Bridge for 200 metres and finish the last 1 kilometre.
Of, if you don't have a car, you may get a van or a bus instead. There are buses and vans in Bangkok that can take you to Damnoen Saduak. But you will want to be punctual, in order to take these public vehicles, as their departure times are always strict.
Damnoen Saduak Floating Market Map