Chiang Saen District – Attractions in Chiang Saen
The town of Chiang Saen, delightfully situated on the banks of the Mekong River, is the site of an ancient settlement that predates Chiang Rai and survives in the ruins of city walls, moats, gateways and temples.
This riverside town facing the Mekong River is 30 kilometers from Mae Chan District via Highway No. 1016. Alternatively, it can be reached by taking Highway No. 110 from Chiang Rai City, then take a right turn into Highway No. 1016 and proceed for another thirty kilometers.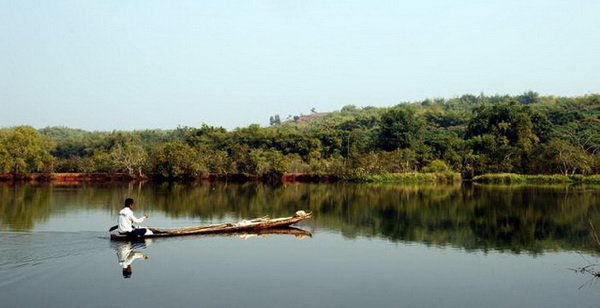 Chiang Saen Lake
Drive five kilometers south of Chiang Saen , along Highway No. 1016 (Chiang Saen-Mae Chan route), take a left turn and you will find Chiang Saen Lake : a large natural reservoir with scenic surroundings. The lake is home to large flocks of migratory waterfowls which are most plentiful and can be seen at their best from November through February. In addition to the scenery, accommodations and water sports facilities are available.
The Golden Triangle
Eight kilometres north of Chiang Saen, this famous riverside spot marks where the borders of Thailand, Lao PDR and Myanmar meet at the junction of the Mekong River and the small Ruak tributary.
A trip to Chiang Rai province would not be complete without seeing the notorious Golden Triangle first hand! This famed border location where Thailand, Laos and Myanmar meet on the Mekong River was once supposed to be the center of all the poppy cultivation in Thailand.
Travel approximately 9 kilometers north of old town Chiang Saen, along the road parallel to the Mekong River to the area where the borders of Thailand, Myammar and Laos converge. This area where the Mekong River meets the Ruak River is locally referred to as "Sop Ruak". Within this area are remains of many ancient places and structures attesting to the fact that the area had been settled by people in the past. It is also the area where various legends concerning the Lanna ancestors originate.
Boats can be hired in order to view the upstream scenery of the Golden Triangle and to travel downstream to Chiang Khong. The trip to the Golden Triangle and Chiang Khong would take approximately 40 minutes and 1 hour respectively, depending on river currents and water levels.
Hall of Opium, Golden Triangle Park
The Hall of Opium at the Golden Triangle Park houses several sections to be explored and various exhibitions to be contemplated. For example, the 5,600 square-meter Hall of Opium presents An Invitation to the Mysterious World of Opium from Darkness to Light, the history of opium as of 5,000 years ago from its natural properties to its uses. It traces opium's global journey through trade routes in the age of imperialism, culminating in the Opium Wars-an event that disgraced both winners and losers that led to the fall of the Manchu Dynasty. It also features Siamese wisdom in confronting the West and the eventual control of opium problems.
Other exhibits are presented in a manner that encourages visitors learn how drugs become a part of everyday life and understand the impact of opium on society in terms of crime, conflict and illegal drugs. Additionally, the Hall of Opium presents efforts to curb drugs through actual case studies that offer alternatives and opportunities in fighting against the temptation of drugs.
The Hall of Opium also displays paraphernalia associated with opium smoking and trading, along with many photographs, films, and videos about opium and other illegal drugs from countries around the world.
Chiang Saen National Museum
Chiang Saen National Museum : This small museum is dedicated to the historical settlement of Chiang Saen and its ancient culture, and provides information on archaeological sites and ethnic minorities in the Mekong River basin, as well as displaying exhibits of Buddha images and Lanna artefacts. The museum is open from Wednesday to Sunday from 9.00 a.m. to 4.00 p.m. except official holidays.
Wat Phrathat Chedi Luang
Wat Phrathat Chedi Luang : Next to Chiang Saen National museum is an ancient 88-meter high, bell-shaped, Lanna style principal chedi which has a 24 meter circumference base. Constructed in 1290 by King Saen Phu, the 3rd ruler of the Lanna kingdom, it is the tallest religious Lanna monument in Chiang Rai. In addition, there are also remains of ancient vihans and chedis. The main hall and other surrounding hedis are in ruins.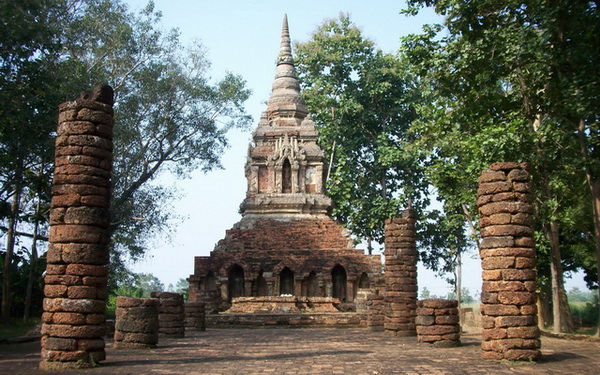 Wat Pa Sak
Wat Pa Sak : Located outside the city walls, approximately one kilometer to the west of Chiang Saen in Tambon Wiang is Wat Pa Sak, which used to be the resedence of the patriarch. When King Saen Phu built the temple in 1295, three hundred teak trees were planted hence the name Pa Sak (Teak Forest). With ornamental stucco motifs, the temples chedi, which is 12.5 meters tall with a base of 8 meters wide, is regarded as being one of the most beautiful examples of Lanna architecture in northern Thailand.
Wat Phrathat Chom Kitti
Wat Phrathat Chom Kitti : Located approximately 1.7 kilometres from town, this hilltop temple, reached by a flight of 339 steps, has a chedi The Golden Triangle Wat Pa Sak
Wat Phrathat Pha Ngao
Wat Phrathat Pha Ngao : This small bell-shaped pagoda built on top of a hill, Located about 4 kilometres along the Chiang Saen – Chiang Khong Road is Wat Phra That Pha Ngao which has a bell-shaped chedi situated on large boulders. Nearby is a vihan where several old Chiang Saen-style Buddha statues are enshrined. This hilltop temple offers a unique and spectacular view of the Mekong River, Laos and of Chiang Saen itself. The temple houses a magnificent Chiang Saen-style Buddha image.
Wat Phrathat Doi Pu Khao
Wat Phrathat Doi Pu Khao : This riverside temple, near the Sop Ruak Market, offers an amazing panorama over the Golden Triangle and the surrounding mountains. Just two kilometers away from Chiang Saen Lake is Wat Phra That Doi Pu Khao which is believed to have been built by a king of Wiang Hirannakhon Ngoen Yang in the middle of the 8th century. This riverside temple near Sop Ruak Market is located on a hill just before the Golden Triangle and offers a spectacular view of the Golden Triangles riverine and mountain areas. The vihan and crumbled chedis are the only visible remains of antiquities today.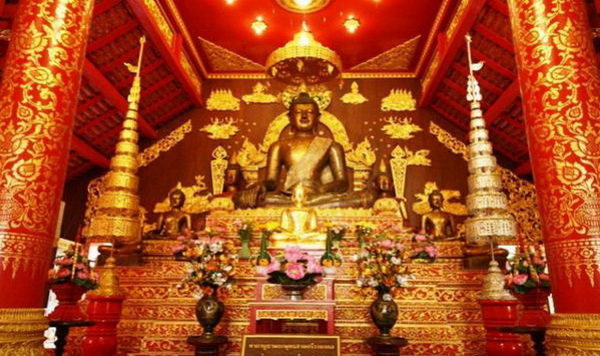 Wat Phra Chao Lan Thong
Wat Phra Chao Lan Thong is located within the city walls. This temple was built by Prince Thong Ngua, a son of King Tilokkarat, the 12th Lanna ruler in 1489. A 1,200-kilogram Buddha statue with a lap width of 2 meters and height of over three meters was cast and named Phra Chao Lan Thong. Another statue called Phra Chao Thong Thip which is made of brass in the Sukhothai style was also cast.
Tham Pha Chom : 2.5 kilometres west of Mae Sai, is noted for its beautiful stalactites and as a place for meditation.