Chiang Saen Ancient City : 'Feel the spell from the world of the past.'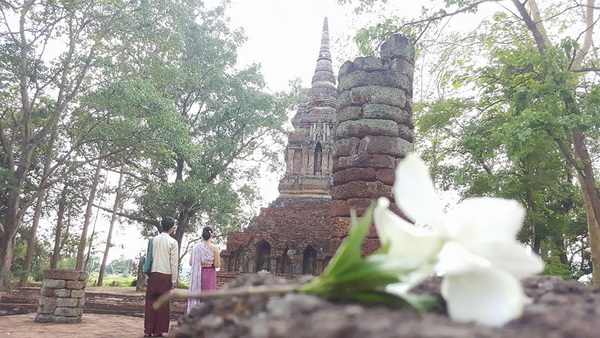 Learning about the past is more interesting than you think. Even many storied have already ended, but they are still valuable and memorable. In that case, how can you possibly ignore them? 
Learning about the past is a kind of important power for future plan preparation. That means, you can apply experience and knowledge from the past to your everyday life, to have some great ideas of what you can do for your own future. 
You may learn about the past by reading some books or articles on internet. But, if you want your study to be deeper, you may visit a real place of history. By doing so, you will see more evidences and details with your own eyes. 
There are many places of history for you to visit. All of them are worthy of being studied. But, if you don't know what to choose, then here is you suggested one.
Let's see The Chiang Saen Ancient City in Chiang Rai Province. 
What is 'The Ancient Town of Chiang Saen' anyway?
In the first periods of Lanna, The Chiang Saen Ancient City was once the centre of the kingdom. That caused The Ancient Town of Chiang Saen to be one of the oldest towns in northern Thailand.
On the first days of its establishtment, The Ancient Town of Chiang Saen was located in the whole area of Chiang Saen Low Land. The northern side connected to Kai Sam Tao Town. The southern side connected to Mae Doem District, in Muang County. The eastern side connected to Chiang Chi District, in Chiang Khong. The northeastern side connected to Muang Luang District. And, the southwestern connected to Fang Town. 
Nowadays, The Ancient Town of Chiang Saen appears as mimor rugged stone architectures. The whole area looks quite peaceful, as there are grass fields and trees around. 
You may walk around to take nice photos. Just remember, all architectures are really old. So, be careful not to ruin anything.
The architectures are something like people houses, abandonded temples, pagodas, or viharas. These are rare, of course. You should feast your eyes with these at least once in lifetime. 
In order to gain best experience from this marvellous ancient town, you should begin your tour with exploring the Chiang Saen National Museum, which is located just next to Pa Sak Gate. The museum may be small, but everything you need to learn about is in there. You will see different ancient items like Lord Buddha statue, amulets, utensils, basketries etc. With these, you can see how people in the past spent their lives. 
After finishing your museum tour, you will want to walk around to see all rugged stone architectures. And, of course, you will want to visit these minor tourist attractions around The Ancient Town of Chiang Saen too.
Wat Phra That Jom Kitti  : This one is located on Doi Jom Kitti, which is about 1.7 kilometres away from the northwestern side of The Ancient Town of Chiang Saen. By visiting the place, you will see a beautiful pagoda on a square-shaped base.
Wat Phra That Pha Ngao : This is not too far away from the southern side of The Ancient Town of Chiang Saen. The temple is in fact a place for dhamma practicing. But you can still wander around to see a small pagoda, a holy Lord Buddha statue, or a glorious vihara. 
Long story short, spend at least one day of your holidays, just to go around this stunning ancient town, as you may not have a chance of seeing something like this anywhere else. Grab your family, friends, or your love one, then take off!
The Golden Triangle : The Golden Triangle, or Sam Liam Tong Kham, is the area that connects Mekhong River and Ruak River to each other.
How to get there 
First, you should reach Chiang Rai downtown. Then keep driving along the Highway No.1 to go through the Highwat No.110. Soom, after you arrive at Mae Chan County, turn right at the path No.1016. That path should lead you to Chiang Saen Lake. Then you will be in the heart of Chiang Saen. At the very same time, Chiang Saen Ancient City will be right in front of you too. Be happy. Find a parking spot. Get out of your car. And enjoy your time or if you do not have car, we can provide the car rental with driver for you.
Opening hours and Entrance fee : Opens daily from 7 am until 5.30 pm.  Admission is 50 THB
Note : Wheelchair users is accessible
Hall of Opium Golden Triangle Park Map