Chiang Mai Art in Paradise a place to make fun memories with friends and family.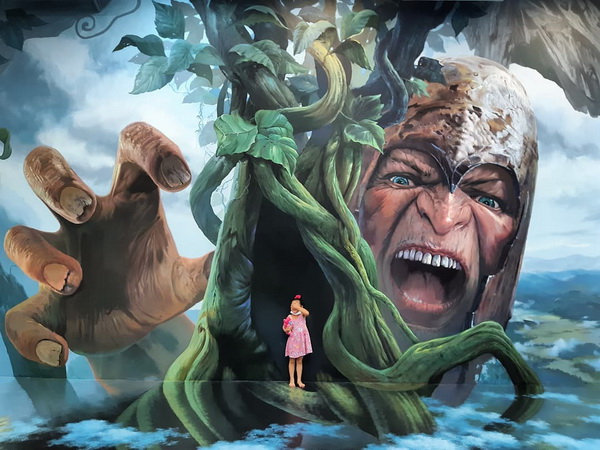 Chiang Mai Art in Paradise is brilliant, it's bright, colourful, and most important, Lots of laughs and great fun! It doesn't have moving parts, history, buttons to press or anything culturally significant but the perspective art is amazing. Go with friends or family so you can spend your time taking lots of photos enjoying the amazing exhibitions and have a good laugh along the way.
Chiang Mai Art in Paradise was opened in in July 2013, recently unveiled the world's biggest 3D art museum called "Art in Paradise". This is the first of its kind in Thailand's North. This gallery was hand painted by a group of artists who flew all the way from Korea. It was founded and funded by Korean Jang Kyu Suk. The founder told that the Chiang Mai Art in Paradise is different from the one in Pattaya which was the first 3D art museum of Thailand. He elaborated that the new one has more creative, imaginative and colorful paintings in the form of "interactive art" which needs participation and imagination of viewers.
The 3-story museum collects a variety of paintings featuring land of animals, underwater world, extinct animals, deserts, and the famous Pharaoh's tomb. In total, there are 130 3D pantings on the walls spread across eight zones:
AQUA
ZOO
DINOSAUR
SURREALISM
CLASSIC ART
LANNA
THAI
EGYPTIAN
Discover the underwater world, Surfing giant waves, Crossing wobbly wooden bridges across waterfalls, Walk in the park and Fighting off dinosaurs. Explore the mysterious land. Billed as the largest interactive art museum in the world and it's certainly a fabulous funny experience that will provide you with plenty of photo opportunities to amuse your family and friends. The museum is great for silliness and play. Don't be shy and have fun.
Enjoy your time at the Art in Paradise 3D Gallery here in Chiang Mai.  If you love taking photos and enjoy with all crazy acts that you can make from the illusion art and 3D paintings. This is a great place to have an hour or two of fun, good for adults as well as kids. Something different to add to your visit to Chiang Mai.
Giggling like a schoolboy and Lots of funny photos. DO NOT MISS IT!
Open Time: Chiang Mai Art in Paradise is open daily 09.00 – 19.00. 
Ticket: Price for adults is 300 Baht and 200 Baht for children
Location:  58/8 Moo1 Chalearn Muang Rd. Tambon Tha Sala, Amphoe Mueang Chiang Mai District, Chiang Mai 50000
Tel.: 053-274-100 Fax: 053-273-491
How to get there ?
Art in Paradise is located within walking distance of the Night Bazaar in the Sea Suan Plaza Building on Changklan Road not far away The Shangri-La Hotel. You can travel by red truck or Tuk-Tuk this here.
Note : Not accessible for wheelchair user
Our services :
Art in Paradise Entrance Ticket
Price/Person

** Not include transport **

Transport Fee 600 Baht/Car

Please, making a reservation at least 1 day before the day tour
240THB for children below 140 cm tall
Fact 
Group size 1-3 persons : We use commuter sedan car 1-3 seats air-con
Group size 4-12 persons : We use commuter van 9-13 seats air-con
This private tour included only a transport, gasoline and a driver.
Private tour arranged only for your group
Insurance cover medical bills up to a maximum amount of 1,000,000 baht
Chiang Mai Art in Paradise Map