Ban Pa Ao and Ban Ta Khao Tom Tha Sud Hilltribe Village
Ban Pa Ao and Ban Ta Khao Tom Tha Sud: 'Observe the lifestyles of the mountain ethnic groups.'
There are many interesting things to study in Thailand. By saying 'study', it doesn't only mean 'sitting in a classroom and read a book'. But study also means going out and see new, different things for yourself. 
Thailand is a land of culture. There are many types of interesting cultures in different parts of the country, including in the northern side. 
Northern Thailand is a good area to study, as some provinces were once parts of Lanna Kingdom in the past. Centuries ago, many ethnic groups have settled themselves in northern Thailand. They usually live in quiet areas like mountains.
There is no wonder how Thai people, including northern Thai people, got new cultures from another lands. 
Even nowadays, these ethnic groups still live in northern Thailand, in many provinces, including Chiang Rai. Even their communities are mostly open for tourist attractions, but they still live peacefully and their areas still look beautiful as always. 
These ethnic groups are usually friendly. In fact, you should find some time and spend your holidays by visiting any of their villages, in order to see their lifestyles, learn about their intellects and cultures. That will be a great experience, believe it. 
If you already want to go, but you don't know any of these ethnic communities, then here is a suggestion for you.
You may be interested in 'Ban Pa Ao' or 'Ban Ta Khao Tom Tha Sud', which are in Chiang Rai, of course.
Let's start from Ban Pa Ao first. Ban Pa Ao is a famous community in Nang Lae District, Muang County. It is inhabited by 5 different ethnic groups of people, consisting of Akha, Yao, Lahu, Palaung, and Kayan. Each group has their own traditions and cultures, but some of them still respect Buddhism and Christianity.
At the beginning of the establishment, Ban Pa Ao was full of agricultural projects, including plant growing and animal raising. But as time went by, those ethnic groups were invited into the community to work and lived together. They have been living in little bamboo houses and the community has been developed into an agricultural tourist attraction ever since.
Their lifestyle are really interesting. You will love that for sure. If you visit their villages, you will at least see how they work to support their lives. These ethnic groups are mostly hired to grow plants, raise animals, and do handicrafts. Their products will be sold to tourists. That makes quite money for the maintenance of the community.
You don't have to be awkward when you're in Ban Pa Ao. Just feel relaxed, as the ethnic groups are lovely and friendly. If you see them, you can just try to communicate, say hello to them, and befriend them.
You can tour their villages, have a sightseeing in a cart, or even set up a camp!
Next, Ban Ta Khao Tom Tha Sud. It is also an ethnic community, with different ethnic groups inside. Everything is almost as same as Ban Pa Ao, only that Ban Ta Khao Pluak will be a little bit larger. However, you can still look around, have a sightseeing, see their lifestyles, careers, their cultures, or do any activities as same as in Ban Pa Ao. Therefore, you can choose to go to any one you like, Ban Pa Ao, or Ban Ta Khao Tom Tha Sud. You will feel the same atmosphere.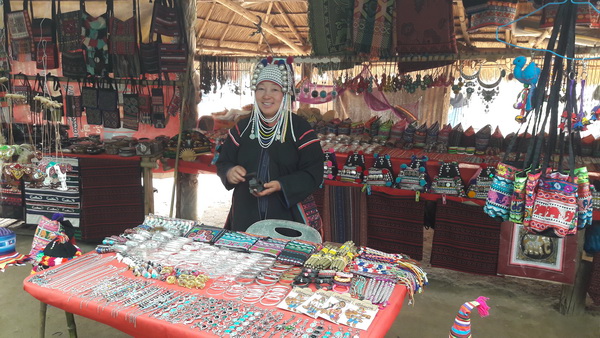 To repeat again, these ethnic groups from both communities are nice and lovely. But some of general people call their communities 'The Zoos of Humans', probably due to the differences between them and general people. But that is not the right thing. Even they came from different lands, but they are still human beings just like any of us. They have to live their lives. They don't have any ID cards, so they can not get out of their communities. They only have non-Thai ID cards, which allow them to stay and work only in their communities. All of these are somethings that should be understood.