Si Lanna National Park : Chiang Mai Attractions

Si Lanna National Park teas declared the Thailand's 60'k national park in 1989. The National Park occupies Amphoe Chiang Dao, Amphoe Prao and Amphoe Mae Taeng in Chiang Mai, with an area of 1,406 square kilometres. It is full of forest, mountains and wildlife.

Geography
The national park features rugged mountain range and providing large forest from south to north. It is the source of various tributaries of the Ping River, Mae Ngat River. With its altitude range 400- 1,718 metres high and highest peak at Doi Chom Hot. Its rich and fertile forests are habitants to a great number of plants. The limestone formation have been covered by sandstone, limestone and shale.
Climate
Rainy season is from May to October. Winter is from November to February and summer is form March to April.
Flora and fauna
Mixed deciduous forest, deciduous dipterocarp forest, hill evergreen forest and coniferous forest blankets the national park with various plants such as Toona ciliata, Cinnamomum iners, Hopea odorata, Lagerstroemia calyculata, Tectona grandis, Xylia xylocarpa, Pterocarpus macrocarpus, Invingia malayana, Shorea obtusa, S.siamensis, Dipterocarpus obtusifolius, D. tuberculatus and Dalbergia oliveri. Also various bamboo, fern and palm can be found at the lower part of the National Park.

The parks is a safe heaven for wildlife including several mammals such as Tiger, Sambar Deer, Asiatic Black Bear, Macaque, Common Wild Boar, Siamese Hare and Common Muntjak as well as different birds such as Duck, Coucal, Bulbul, Egret and Barbet.
Attractions in Si Lanna National Park

Mon Hin Lai Waterfall
Mon Hin Lai Waterfall, is situated at Huai Mae Paeng in Chiang Mai. The 6 level waterfall is full of water all year round and creates spectacular view.
Mae Ngat Irrigation Reservoir
Mae Ngat Irrigation Reservoir covers an area of Mae Taeng forest and Mae Ngat forest. The Reservoir approaches scenic natural view and is developed to be an ideal place for recreation.
Doi Pha Sam Sao mountain
Doi Pha Sam Sao mountain Spectacular forest is approached along the Highway No. 1150 in Amphoe Prao, Amphoe Chiang Dao in Chiang Mai. Rom here, visitors can watch the scenic view of Doi Pha Sam Sao mountain range.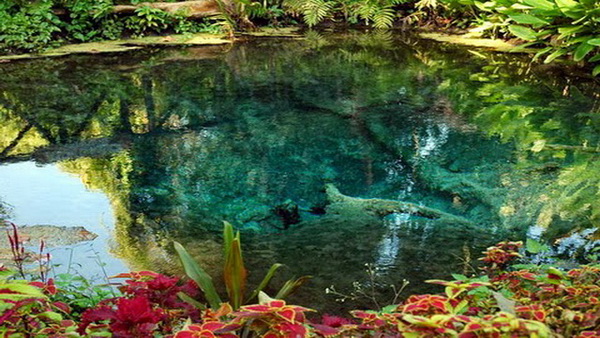 Bua Tong Waterfall and Nam Phu Chet Si
Bua Tong Waterfall and Nam Phu Chet Si or Sticky Waterfall and the Rainbow or Seven Colors Spring is located north of Chiang Mai. The water source for Bua Tong waterfall is the Rainbow or Seven Colors Spring. The spring water contains a high amount of calcium carbonate. As the spring water cascades down the falls, the calcium is deposited on the rocks. The calcium carbonate then adds a non-slip surface to the rocks. Believe it or not, the rocks look slick but it is very easy to walk up the face of the falls without slipping. It is almost as if someone decided to pour cement down over the rocks and it hardened under the water. This single feature makes it a worthwhile visit to Bua Tong waterfall. However, don't go just for the falls, go for the beauty of the forest as well.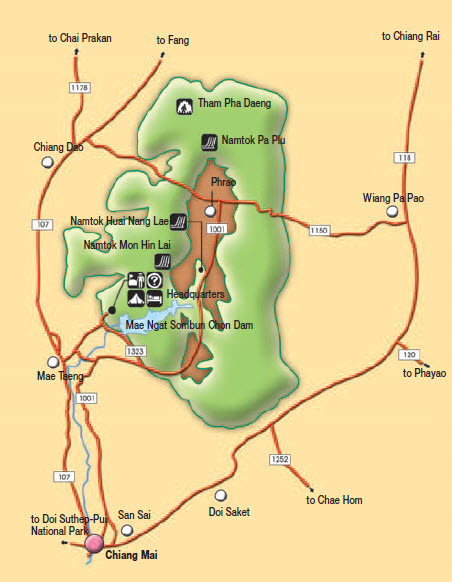 Si Lanna National Park Map