Phra That Khao Noi Temple 'Pay respect to the golden Lord Buddha statue.'
If you have enough time in Nan Province, surely you don't want to miss visiting Phra That Khao Noi temple, which allows you to see the whole view of Nan town.
Phrathat Khao Noi Temple was built in the year 1487, somewhere in the period of Chao Phu Khaeng. The most outstanding part of the temple is the golden Lord Buddha statue named 'Phra Buddha Maha Udomonkol Nantaburee Sri Nan', located over the town. The statue is about 9 metres tall. It was built in an honour of King Bhumibol in December 5, 1999. This is worthy of worshipping and has been being done so by many tourists.
Beside, there is also a Burmese-Lanna pagoda on the top part of Doi Khao Noi that stores hair relics of Lord Buddha. The pagoda was once renovated from 1906-1911 by Burmese workers.
Phrathat Khao Noi Temple is about metres higher than the sea level. Therefore, you can see the overall view of Nan town. Very beautiful. Enjoy taking a lot of photos too. The walls of the temple are all white, which are relaxing-looking. It will be nice to walk around the temple and have a sightseeing.
Wat Phra That Khao Noi is not very large. Instead, it's in medium size, quite natural and relaxing. It's perfect for you to make a wish for your own birthday or making merit with your family during holidays.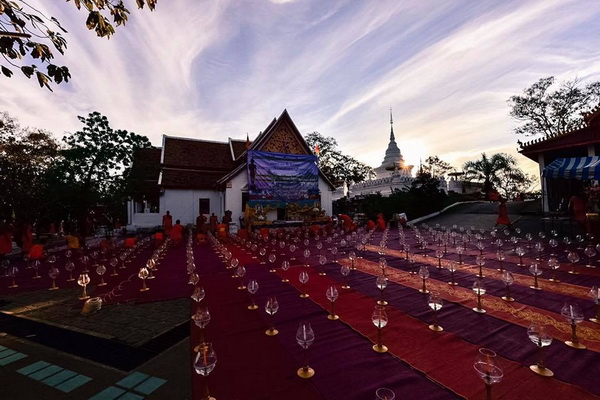 How to get there
Phra That Khao Noi Temple is located in Muang County, Nan Province. To get there, just use the same route to Wat Phaya Wat. The only difference is that Phra That Khao Noi will be 2 metres further. Keep driving up until you reach the top part of Khao Noi. Then you will reach the temple, if you still worry for getting lost, we recommend you to travel by private tour.
Opening hours and Entrance fee : Opens daily from 6 am until 6 pm. Admission is free.
Note : Wheelchair user is accessible for ground temple.
Phra That Khao Noi Temple Map