Kruba Sri Wichai Monument Lamphun 'A landmark of the town'
Lamphun is a historic town in northern Thailand, good place to go with anyone you love, especially your kids. It's a town where many new-age people will have a chance of learning old things from the past and apply those to new things in the future.
To learn history of Lamphun, we can start for something simple like 'Kruba Sri Wichai Monument', a monument of an important Buddhist saint.
Kruba Sri Wichai was well-known among Lanna people, as he lived his life simply and mercifully. He skipped all kind of meat and only ate one meal a day.
But the most important thing is, he was the establisher of the road that lead us up to Wat Phra That Doi Suthep, a popular Buddhist temple is Chiang Mai. He didn't just build it ordinarily, but he built it without spending any part of government fund.
He has been respected all long, although he was charged for 3 cases due to his strictness of Lanna tradition. Still, he has maintained perfect image of Buddhism and people have never lost faith in him at all.
Visiting Kruba Sri Wichai monument Lamphun may give you an inspiration to learn more about him. And that you will see what became in the past.
Kruba Sri Wichai monument is on the opposite side of Suthewa Anchorite Monument. It won't be difficult to notice. You will see a golden statue of his in a large size being surrounded with white concret fence. That's worthy of paying respect to for once in lifetime.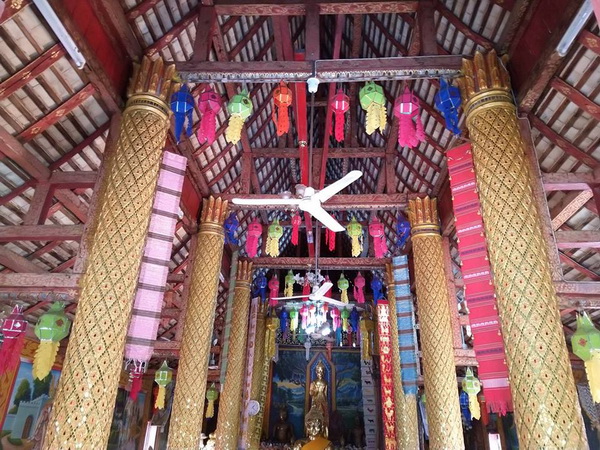 How to get there
Kruba Sri Wichai monument aren't far away from the downtown of Lamphun. You can just hire a tricycle to give you a ride. Or, if you can't find one or it's not convenient for you, just get any other public vehicle or you can book the private tour with us for 1 Day trip.
Opening hours and Entrance fee : Opens daily from 8 am until 5 pm. Admission is free.
Note : Wheelchair user is accessible
Kruba Sri Wichai Monument Map