Ban Huai Tom Handicraft and Cultural Centre
Ban Huai Tom Village 'Learn the lifestyle of Karen people.'
You should give yourself a chance of visiting a place where you can learn about ethnic life, as it's very interesting. Ethnic people live in different parts of Thailand, including in Lamphun. Their lives consist of culture and art, all of which you may haven't heard of before. And these ethnic groups are particularly good at handicrafts, really. They can create many amazing works.
If you want to know what works they create, you can visit many community. But if you still have no choice, then let's take this one.
Ban Huai Tom Handicraft and Cultural Centre.
Ban Huai Tom Karen Village is a learning tourist attraction. There are many zones there, exhibition zones and souvenir zones. You may read some texts, look at photos, or admire exhibitions that present you the history of weaved-fabric. Weaved-fabric is an outstanding work of Karen people and many other ethnic groups. They weave fabrics on their own, creating gorgeous colors and patterns.
Beside of just looking at them, you can also purchase some as your souvenirs. There are plenty of them: silverware, clothes, bags etc.
You will want to have a sightseeing around too. There are many trees and gardens. You can take photos if you want to. Just get your camera ready.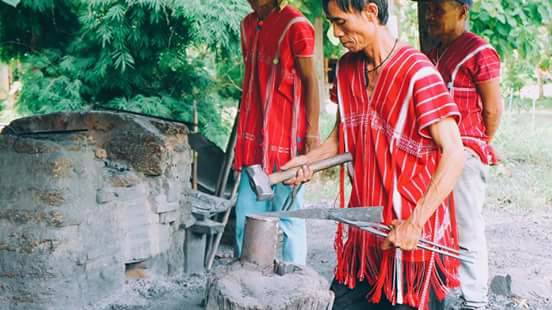 This is a very valuable learning source. Don't hesitate to go with your friends or your family. The atmosphere there is worthy of both learning and mind-relaxing.
How to get there
The place is located in Lye County. You may start your trip from Chiang Mai. Get into Lamphun first, then reach for Lye County. You should find your destination in no time. If you don't know your way around, just take out your smartphone and enter Google Map.Most comfortable way to get there is by private tour or book the car rental with driver. Most hotels can book one for you or contact tour agency in Chiang Mai.
Opening hours and Entrance fee : Opens daily from 8 am until 4.30 pm. Admission fee : free
Note : Not accessible for wheelchair user