Mae Takhrai National Park : Plan your adventure holiday to Mae Takhrai National Park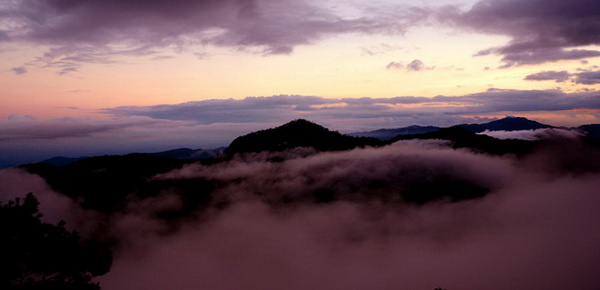 Mae Takhrai National Park covers the areas of Sankampaeng District and Doi Saked District of Chiang Mai Province within an approximate area of 1,114 square kilometers or 696,250 rai. The National Park is the source of Ping River, consisting of high mountains and having major valuable plants and wild animals. Prominent natural tourist attractions of the National Park include waterfalls, cliffs, artesian spring, reservoirs, etc. They include this national park, which is the site of the popular Flight of the Gibbon zip line adventure. Finding your own way up to the eco-village of Mae Kampong is easy enough there is a cave and hotsprings along the way while this mountain hamlet enjoys a gorgeous location complete with homestays lining a pretty stream.
Geography
The geographical features of the National Park consist of high mountains, at the altitude of 400-2,031 meters above the medium sea level. The National Park has Class 1 rain forests and limestone mountains situated in the area of Ping Basin. Within the areas of the National Park, mixed forests can generally be seen, meanwhile, virgin forests grow thickly along the riversides and the rain forests.
Climate
The weather at the Mae Takhrai National Park can be divided into 3 seasons including rainy season (May-October), winter (November-February), and summer (March-April).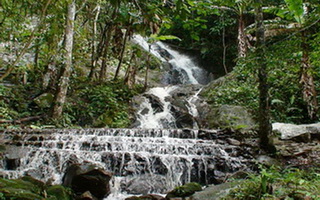 Flora and fauna
Mae Takhrai National Park has virgin forests, timber forests and mixed forests. Major plants in the forests include teak, Xylia Xylocarpa (redwood plants), Leguminosae (Pradoo), rubber trees, Michelia Alba, Pterocarpus Indicus (Pradoo Som), Dipterocarpus Intricatus (Hiang), Dipterocarpus Tuberculatus (Pluang), Shorea Siamensis (Rang), Black Wood, Vitex Pinnata Linn. (Teen Nok), meanwhile, lower plants include bamboo, Calamus Caesius, Tetrameles Nudiflora (Pong), Arundo Donax, etc. And two-leaf/three-leaf pines (Pinus Merkusii Jungh/Pinus Kesiya Royle Ex Gordon) grow sparsely along the mountain ridges.

Wildlife, which can be found in the areas of the National Park, includes wild boars, monkeys, gibbons, deer, Muntiacus Muntjak, goral, tigers, rabbits, wild fowls, and different kinds of birds such as parrots, black bitterns, owls, etc.
Attractions in Mae Takhrai National Park

Doi Lang Ka
Doi Lang Ka It is the 5th of Thai's highest mountain with 2,000 meter high above sea level. The weather is cold all year round. It is located at 12 kilometers from Kampaengphet village. 
Mae TaKhai Waterfall
Mae TaKhai Waterfall is a single-level waterfall, 6 kilometres away from Park headquarters. Along the way, there are various kinds of plants, mushrooms and wild flowers.

Reservoirs and Dams Reservoirs and dams within the areas of the National Park include Huai Pha Haen Reservoir, Huai Khamin Reservoir, Huai Bong Reservoir, Huai Mae Takrai Reservoir, Mae Kuang Dam, and Huai Mae On Dam.
Muang On Cave
Muang On Cave is a huge cave with trail of history since there are many ancient buddist antiques. The cave itself had a beautiful scenery with limestone hills and cliff , natural furnished with stalagmite , stalactite. Include with captivating history and legend of this historic cave.
Baan Mae Kampong
Baan Mae Kampong is 1,300 feet above sea level and enjoys cool breezes throughout the year. Surrounding Baan Mae Kampong are tea and coffee plantations where the villagers work against a backdrop of breathtaking scenery. The village is unique in many ways, not the least of which is the revenue earned from the sale of electricity to surrounding villages. This idea was the brainchild of His Majesty King Bhumibol during a visit to the village more than twenty years ago. Following the monarch's advice, the people of Baan Mae Kampong have successfully turned the sale of electricity into a major source of income.
Visitors to the village are spoiled for choice; up-market or down-home accommodation, fresh, cool mountain air, cascading waterfalls and sparkling streams, hill trekking, rock climbing, bird watching and nature photography, or to just relax after a day of wandering the beautiful hills with a cup of freshly brewed, locally grown tea or coffee.
Flight of the Gibbon
Flight of the Gibbon is the famous zipline courses in the most spectacular and beautiful real rainforest locations in Southeast Asia.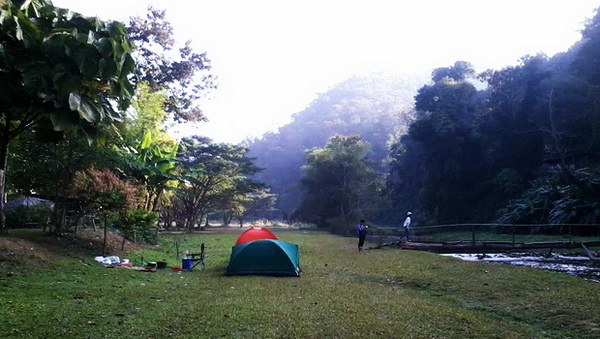 2 campsites are provided at the Check Dam. For more information contact Mae Takhrai National Park, Tambon Tha Nuea, Amphoe Mae On, Chiang Mai 50130, or the National Park Centre, Chiang Mai Forest Office 50000, tel. 0 5381 8348.
Mae Takhrai National Park Map