Tham Pum Tham Pla Cave 'Visit the caves with emerald-colored water and schools of fishes.'
Beautiful water and caves don't exist just in movies, but also in real life. There are many tourist attractions where you can see the beauty of these things, including in Chiang Rai, Thailand! 
Pong Ngam District of Chiang Rai is full of many stunning caves and clean water sources. You should visit at least one of these. To be frank, all of them are really really beautiful. 
Ones of the most beautiful caves in Pong Ngam, which you should never miss, are Tham Pum Tham Pla Cave. These two caves are naturally glorious. Just make sure that your camera is ready. 
Let's get to know more about tham Pum Tham Pla Cave.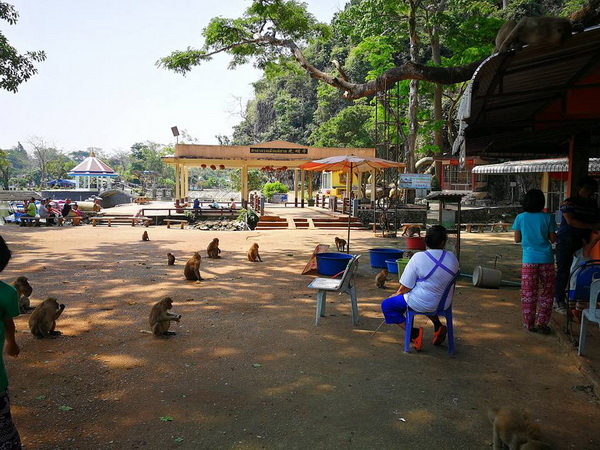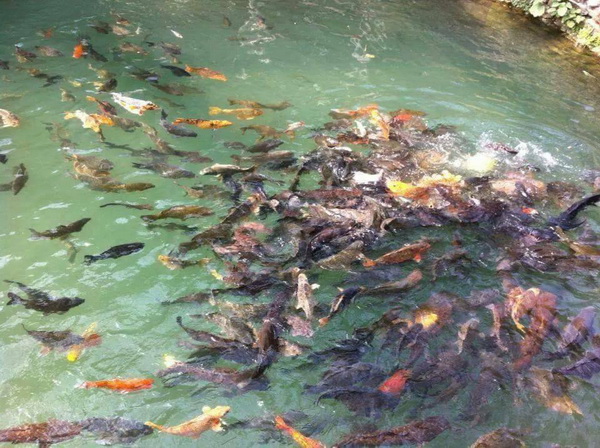 Start with Tham Pla Cave…
Tham Pla Cave, or Wat Tham Pla Temple, is about 1.5 metres high and 2.5 metres wide. It is located just under a limestone mountain, with cool water flowing from the entrance all the time. The best thing there is, you can watch schools of fishes swimming in the water. These fishes are mostly local and rare, but some of them are general fishes released by tourists. That is why the cave is called 'Tham Pla'. In English, the world 'pla' means 'fish' and 'tham' means 'cave'.
There are also some monkeys living around the cave. You must have a chance of seeing them for sure if you go. Sometimes they love to beg for foods from tourists, which make them look so cute. If you see them, just don't be afraid. Just play with them nicely and carefully, but don't feed them arbitrarily, as some foods of humans may be dangerous for them.
Beside of animals, you can get inside the cave to pay respect to 'Phra Song Kruang', a Burmese-style Buddha statue.
Plaew Plong Fah Cave
Koo Kaew Cave
Tham Noi Cave
Naga Stone Pole Cave. This once is probably the most interesting one. It is located at the ending part of Tham Pla. You can reach it both by your feet or water travel. The cave is quite high and its stalagmites look like poles. That is why everybody calls it 'stone pole cave'.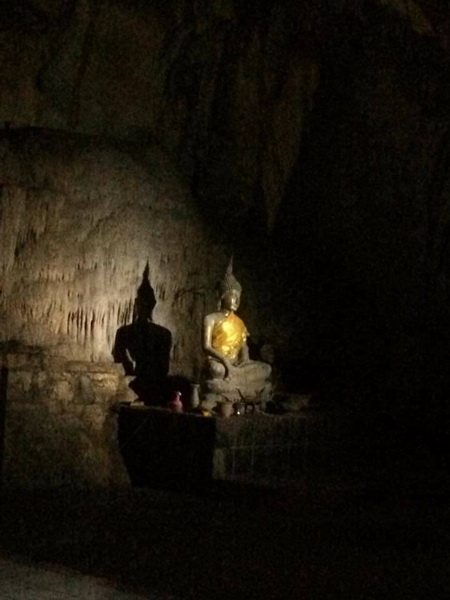 Next, let's move to Tham Pum Cave…
Tham Pum Cave is quite different from Tham Pla Cave. It is located on a high mountain. You must get up there by walking along a stairway, which is not too high. After you reach it, you should see an ancient statue of lion above the entrance. This statue is over 200 years old.
Then, after you get inside the cave, you will see sparkling stalagmites around you, all of which look like some kinds of buttons. And that is why the cave is called 'Tham Pum'. The word 'pum' means 'button' in English.
This cave is about 60 metres long and 1.50 metres wide. If you keep walking around, you will see stalactites, a pond called 'Bo Nam Tip', and, lastly, a Buddha statue that you can pay respect to.
Tham Pum Cave is quite dark. If you are not so sure about your way, you should have a tour guide with you. Also, you should have a flahslight to see where you're going. Always walk carefully. Try to wear shoes, not slippers, or you may slip and trip over something inside the cave.
However, these two caves are good places for every family members to spend a great time together. You can explore them, have a little picnic near the water, take some nice photos, or any other activities. But just keep the areas clean all the time. Don't drop litter on the ground and water, or it will be dirty and cause harm to animals.
How to get to Tham Phum Tham Pla Cave 
:Tham Pla Cave: 
Tham Pla Cave is located at Area 5, Ban Huai Poo Kaeng, Pong Ngam District, Mae Sai County, Chiang Rai Province. 
To get there, you should start your trip from Mae Chan County first. Then you head for Mae Sai County by following the Highway No.10. After that, try to look for the 877th-878th kilometre poles. As soom as you see them, just turn left and you will find a sign written the exact direction to Tham Pla Cave, which takes about 1.5 kilometres. 
:Tham Pum Cave: 
Tham Pum Cave is located at Ban Dong, Area2, Pomg Ngam District. It is not too far away from Tham Pla Cave. 
It is near the southern side of Mae Sai County. You can reach there by driving along the Highway No.110 for about 12 kilometres. Find a parking area before walking on your feet all the way up to the cave.
Tham Phum Tham Pla Cave Map