Pha Daeng National Park Chiang Mai Province
Pha Daeng National Park is another national park in Chiang Dao district. The location is quite remote and compared to other parks. Pha Daeng is less commercial than other parks in the area.
Pha Daeng National Park is one of Thailand's larger national parks, at 1,225 square kilometres, remote Pha Daeng lies in the very far north of Chiang Mai province and abuts the Burmese border. To the east, the park includes the southern slopes of Doi Ang Khang and to the west stretches almost as far as Wiang Haeng. It incorporates parts of Chiang Dao district and this is where the visitor centre and park headquarters are situated.
Geography
The area, in general, consists of complicated mountains. The main mountains in the east part, almost sedimentary rock, are Doi Thumglab, Doi Huatoe, Doi Khunhuay Sai, Doi Phadang, Doi Thum Ngob and Doi Danfak. The main mountains in the west part, covered by forest, are Doi Khampra, Doi Pukphukka, Doi Lekjee, Doi Sankiew-khompra, Doi Kiew Who Lom, Doi Tuay and Doi Yang klor. In the middle of the high mountain ranges, north and south between Huay Mae Jok and Hnong Kheaw Village, is the low-land which has low mountains, for examples, Doi Thummyung and Doi Khunpao. And in the west part, the highest area about 400-1,800 meters above sea level, has Doi Pukphukka, about 1,794 meters above sea level, be the highest mountain. There is heavy rain because the area is influenced by southwestern monsoon.
Climate
The temperature is quite hot in summer and cold in winter with the lowest temperature about 7.5 degrees Celsius, and the highest temperature about 26.7 degrees Celsius. There is heavy rain in rainy season approximately 1,838.5 mm. of rain all the year round with the heaviest rain in August.
The area has not been suffered by the weather except some time in winter which has heavily windy rain come with hail in which can destroy the local orchard and cause wild water blowing down heavily. The wild water is too much so that can damage the communication in the area and the nearby area.
Flora and Fauna
The area consists of complicated mountain range and productive forest which is the source of water. In the semi-evergreen forest, montane forest and pine forest has the valuable plants such as wild champak, Yang, Malabar ironwood, baleric myrobalan, cinnamon tree, pine, Heang (a kind of Dipterocarpus obtusifolius) and eng. And in the mixed forest and deciduous forest has the valuable plants such as Burmese ebony, ironwood, Tabak (a kind of Lagerstroemia), Yorpar (a kind of Rubiaceae), Sela (a kind of Lagerstroemia), Chittagong wood, ingyin, Siamese sal, myobalan wood, Tiew (a kind of Catoxylum), many kinds of bamboo and grass, etc.
The area is in the same forest of Chiang Dao Animal Reservation, Chiang Dao District, so that make it be the habitat of valuable animals such as goral, wild boar, barking deer, banteng, guar, porcupine, langur, palm civet, squirrel, chipmunk, many kinds of bird and reptile. And the amphibians found near river are many kinds of frog, toad.
Tourist Attractions at Pha Daeng National Park
Yod Doi Tuay view point is located at the north of the park. You can view a landscape of Thailand and Myanmar from the top of Yod Doi Tuay.
45th km view point is located at 45th kilometres on Mae Cha – Peang Luang road. This area belongs to Khun Klong headwater rangers. On the top you can have a view of Doi Chiang Dao wildlife sanctuary.
Pang Tong waterfall is a medium waterfall that is hidden by the forest. The water run underground for 50 – 60 metres and come out of a cavity to a cliff. The waterfall area is covered by evergreen forest.
Klap Cave, a 10 meter wide cave with spectacular stalacites and stalagmites. It is also a home to bats.
Tap Pha Cave a smaller but accessible cave at Ban Tap Tao.
How to get there
The main park entrance is clearly marked in English and lies just a few hundred meters off the main road, Route 1178. It's around 15 kilometres from Arunothai or 30 km from Chiang Dao or we can provide a private tour or car rental with driver to visit there.
Facilities
There are two bungalows for rent.
Contact address 
Pha Daeng National Park
Muang Na sub district,Chaing Dao district
Chaing Mai 50170
Phone: 053-317 498, 053-261 466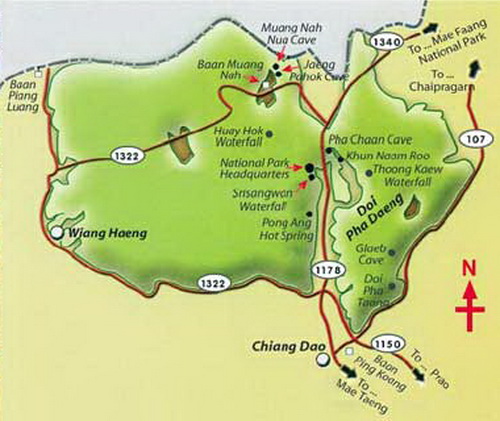 Pha Daeng National Park Map