Khun Kon Waterfall: 'Feel the cool water drizzle in the middle of preserved forest.'
Beside of touring mountains, museums, or temples in Chiang Rai, waterfalls are interesting too. 
Even the climate in Chiang Rai is mostly cool, but if you choose to travel to a waterfall in a proper time, which should be during October to March, you will enjoy it a lot and you will not feel freezing. 
There are quite many beautiful waterfalls in Chiang Rai, and Khun Kon Waterfall is one of these. Just go there if you don't know where to choose. 
Let's get to know more about it.
Khun Kon Waterfall, or the former name 'Tad Mhok Waterfall', is located in preserved forests of Mae Lao and Mae Kok. Therefore a fresh and relaxing atmosphere is guaranteed.
Khun Kon Waterfall is about 70 metres high, which is considered to be highest in Chiang Rai. Also, it is the most beautiful one. The water flows from a high rock mountain all the time, look just like a white curtain. Many tourists love the place. They can barely prohibit themselves from swimming the water. Sure you must be in that way to, as soon as you arrive at the place.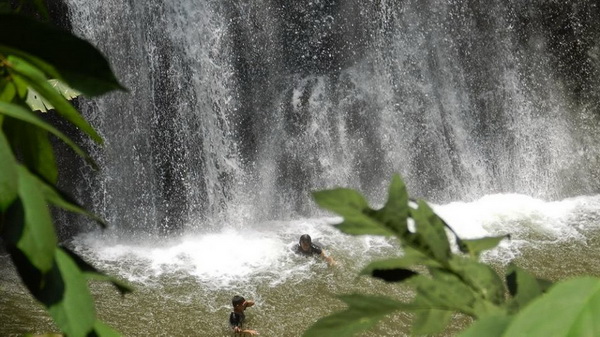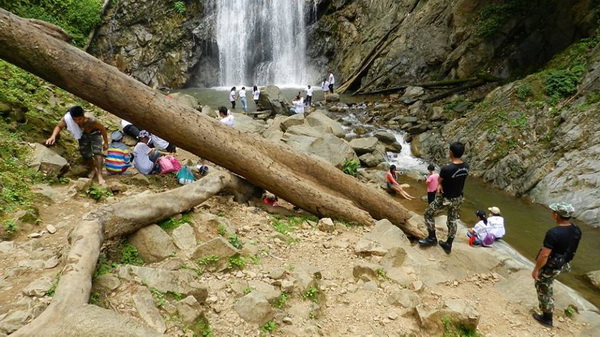 In case you have small children with you and they want to play in the water, you should never let them be on their own. You have to be with them all the time, or an accident may happen. 
You should dress in sporty cloths if you want to swim. A T-shirt and a pair of shorts are most suggested.
However, if you don't want to swim, you can just sit on a rock, relax yourself, have a little picnic on the land, dip your feet in the water, walk along a bamboo bridege that cross the water, and take some nice photos. Just remember one thing, always keep the area clean and don't ruin anything.
A perfect thing is that, there are small sets of tables along with sun unbrellas for tourists too. If you don't have a plastic sheet for sitting on the land, you can just sit around one of these tables instead.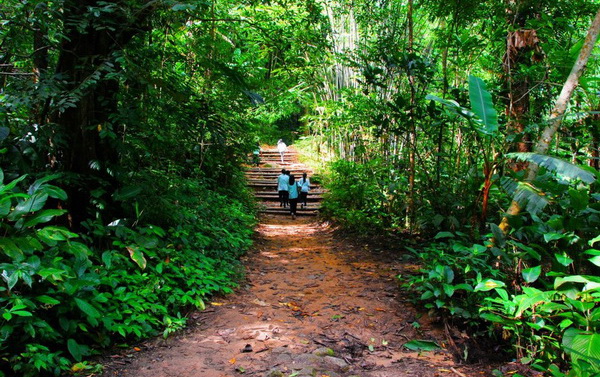 This is a perfect place to spend holidays with your friends, family, or love one. Or, even if you're with yourself, no one else, you can go too. The place should make your mind feel better from all stress. Believe it, seeing water and greenery around is just like heaven. You will totally forget all sorrow and anxiety.
If touring the waterfall in one day is not enough for you, then let's spend a night. Even there aren't any shelters available, but you can bring your own tent and rent a camping spot for about 50 Baht. You should enjoy sleeping in the middle of nature and waking up with cool water drizzle in front of your face.
Just get yourself ready if you want to have a camping at the waterfall. You should have enough foods and drinks, and other necessary items. You are in a national park, which is like a kind of woodland. Therefore, if you forget to bring something with you, you may not be able to require it from anyone. 
Lastly, the admission fee of the waterfall is only about 20-80 Baht for an adult, and 10-40 Bahr for a child. That is really affordable for everyone. 
In case you want a further information, you may contact The District Office of Mae Kon via 053-726368.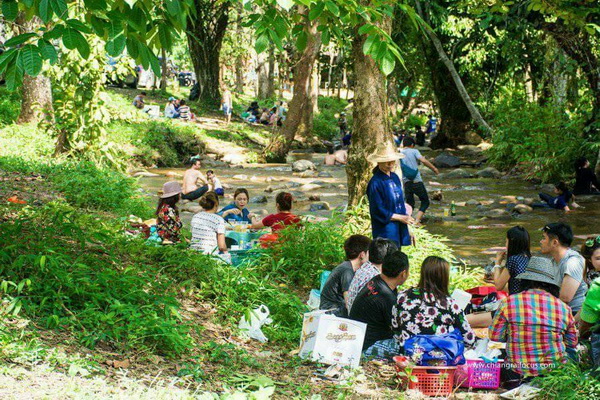 How to get there 
It is not difficult at all to get to Khun Kon Waterfall, as it is only about 33 kilometres away from Chiang Rai downtown.
There are two different ways that are most convenient. First, you may grab a minibus with the text 'Chiang Rai-Ban Pang Rim Kon' on it.
Driving in your own car will also be fun. Just keep going along the Highway No.1 until you arrive at Ban Rong Kun. Then, turn right into the Highway No.1205 instead. Not so long after that, you will find a junction, which the right side leads you to Khun Kon Waterfall. However, after you enter the area of national park, you have to park your car in a prepared parking area and walk on your feet to reach the waterfall or you can book the car rental with driver for more comfortable.
Opening hours and Entrance fee : Opens daily from 8 am until 4.30 pm., Admission is 300 THB
Note : Not accessible for wheelchair user