Doi Phahom Pok National Park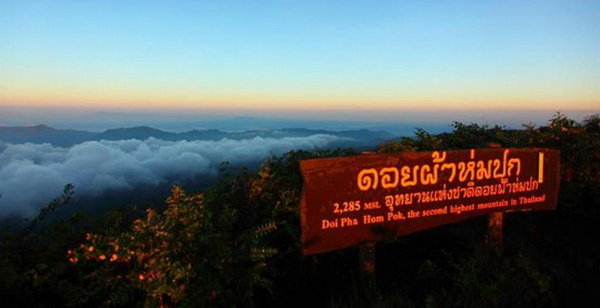 Acquiring about 524 square kilometres in Tambon Mon Pin, Amphoe Fang and Antphoe Mae Ai and Choi Prakan of Chiang Mai, Doi Phahom Pok National Park has been declared as one of the Thailand's national park since 2000. It is reputed for beautiful waterfalls and hot springs.
Geography
Doi Phahom Pok National Park is located on the Phi Pan Nam mountain range. The mountain is about 400-2,285 metres above the sea level. The highest peak is "Doi Phahom Pok" peak, the second highest mountain in Thailand. Also, it gave birth to the main tributaries of Mae Nam Fang.
Climate
Average temperature is 25.4 degrees Celsius. Winter season is from November to February (13.7-19.0 degrees Celsius) and rainy season is from May to September (Average rainfall is 1,183.5 mm. per years) In April, the temperature is generally up to 39.1  degree Celsius.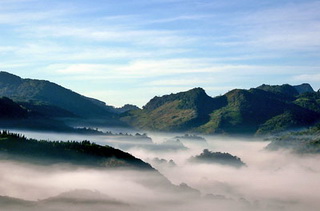 Flora and fauna
Mixed deciduous forest, deciduous dipterocarp, evergreen forest and coniferous forest and virgin for¬est blankets the National Park with various kinds of vegetations such as Hopea odorata, Baccaurea sp., Lagerstroemia calyculata, Tectona grandis, Michelia fhribunda, Phyllanthus emblica. Particular rare vegetation such as Thian Hang" and "Kulap Fi" are found on the top of "Doi Phahom Pok".
Doi Phahom Pok National Park is home to a number of wildlife including Sambar Deer, Bear, Common Muntjak, Common Wild Boar, Slow Loris as well as different kinds of birds such as Cutia, Purple Cochoa, Green Cochoa and rare butterflies such as Brown gorgon, Mountain peacook and Kaiser.
Attractions in Doi Phahom Pok

Fang Hot Springs
♦ Fang Hot Springs. These hotsprings originate from simmering granite with temperature from 90-130 degrees Celsius. It is popular among tourists.
Geysers
♦ Geysers. These geysers spring into the air with 50 metres high for a 2 minute period every 25 minutes.
♦ Huai Mae Chai. It is 300 metres far from Hot Springs. Its current is clear, clean and full of water all year round.
Tham Huai Bon
♦ Tham Huai Bon. This cave offers a fantastic view of stalagmite and stalactite. It is 12 kilometres far from Amphoe Fang.
♦ Pong Nam Dang Waterfall is one of the beautiful waterfalls because there is a lots of water supply for consistent flowing.
♦ Huai Hian Waterfall. The 3 levels waterfall is far from Tham Huai Bon 3 kilometres.
Tat Mok Waterfall
♦ Tat Mok Waterfall offers spectacular view of waterfall. It is located far from Mae Eye 4 kilometres.
♦ Na Ma-uen Waterfall, a 3 level waterfall, is located in the jungle of Amphoe Mae Ai.
Doi Pha Horn Pok
♦ Doi Pha Horn Pok, the second highest peak of Thailand has 2,285 metres high. From here, visitors can watch spectacular views including sea of clouds and the border route between Myanmar and Thailand.
Doi Phahom Pok National Park Map