Doi Ang Khang: 'Go up the mountaintop area and admire beautiful flowers.'
Getting tired of same old routine activities? Then why don't you spend some time to pack your luggages and go somewhere else? Why don't you change your atmosphere a little bit? Why don't you get yourself to something new like going up to a mountain? 
Going up to a mountain may sounds exhausting to you, but not always, especially, at a mountain area named 'Doi Ang Khang'. At Doi Ang Khang, you will not get tired, exhausted, or something like that. Instead, you will enjoy the atmosphere there so much that you almost forget about everything, as the area is so beautiful and stunning.
 Let's get to know more about Doi Ang Khang, in case you're interested and want to go.
Doi Ang Khang is located in Mae-Ngon District, Fang County, Chiangmai Province. This is one of the must-go tourist attractions. Doi Ang Khang is about 1,400 metres higher than the sea level. It is surrounded with a series of 5-kilometred-long valleys. The whole area is millions square metres.
The average temperature of Doi Ang Khang is somewhere around 17.7 degree Celcius. That is quite cold, so make sure you get a jacket with you before you go. However, at some point, the highest temperature will be at 21 degree Celcius, which will be in April. But, in January, the temperature can be dropped to -3 degree Celcius.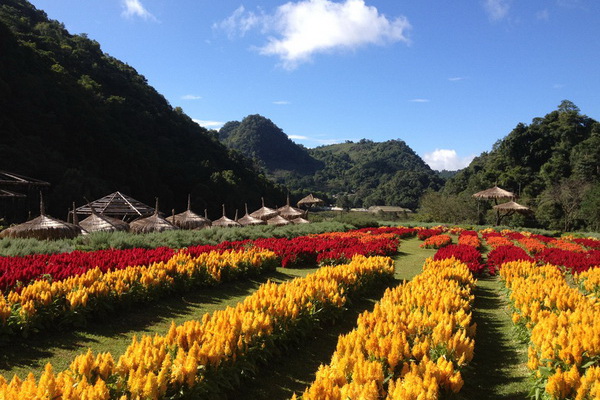 Doi Ang Khang is something like a national park, in fact. As Doi Ang Khang is very large, therefore there are many minor tourist attractions around, mostly agricultural. This is a good opportunity of having the greatest sightseeing and learning about Thai agriculture. And, for your information, most of the Doi Ang Khang area is used for agricultural research.
Now, if you want to know where you can go at Doi Ang Khang, here are your answers.
Luang Ang Khang Agricultural Centre : This centre is a royal preject of King Bhumibol, the 9th king of Thailand. It all started when his His Majesty visited Phak Phai Village, which is in Fang County. He saw many farmers deforested and destroyed the river souce just to grow their plants. The king worried that a series of ecological problems could come after. Therefore he used his own money to purchase some parts of Doi Ang Khang area and then he started his project. The main idea of his project is all about growing winter plants and doing researches about them. Not only that, with his project, the local agriculturists will learn about how to grow things appropriately too.
Suan Somdej : Visit the zone to see countless species of winter plants.
Suan Paedsib : The name of the garden came after the 80th birthday of Bhisadej Rajani, the project owner. (** Paedsib means eighty in English.**) Quite similar to Suan Somdej, Suan Paedsib also consists of many winter plants.
Chinese Plum Garden : You should see a bunch of Chinese plums around you.

Kham Doi Garden

: Don't miss a chance of visiting this zone, as there are many interesting plants of Rhododendron species, which were import from New Zealand, England, and other countries.
Winter Fruits Field : There are various types, strawberries, raspberries etc.

The Sunset-Seeing Spot

: The path to Ban Khob Dong and Ban No Lae is a perfect spot to see the beautiful sunset. Just imagine yourself with your love one, and you guys watch the sunset in the middle of mountains together. Isn't that romantic?

The Descending Strawberry Field

: Let's see farmers grow juicy strawberries. That sounds delicious, doesn't it?

Doi Ang Khang Operation Base

: Located just about 1 kilometres before the Agricultural Centre, this operation base is good for you if you want to see the sunrise.
That is not the end of that! Beside of these minor tourist attractions, there are still more. In case you want to befriend or get to know some ethnic groups, you can visit their villages at Doi Ang Khang. There are 6 villages inhabited by mountain ethnic groups: Ban Luang, Ban Khum, Ban No Lae, Ban Pang Ma, Ban Pa Ka, and Ban Khob Dong. The villagers live peacefully, as all villages have been developed. There are 4 different ethnic groups of the villagers: Shan People, Black Lahu People, Palaung People, and Chin Haw People. By visiting their villages, you will learn about their lifestyles. That is a worthy experince, really.
How to get there
Doi Ang Khang is located in Mae Ngon District, Fang County.
Now, to go there, you can first start your trip in Chiang Dao County. Just follow the road along Ban Arunnothai. Keep driving, don't stop until you find the way up to the mountain.
The second route is, just use the Chaiprakarn County-Fang County Highway. Be cautious if you choose this one, as the road is not straight very much. To be precise, it is quite curved and steep. You should not drive fast or you may have an accident. However, keep going for about 70 kilometres until you find Wat Had Samran. From that point, just turn left for another 25 kilometres.
Another option is .. you can book the private tour or car rental with driver to go there because it is comfortable and enjoy your trip.