Phan Tao temple is Worship and Beauty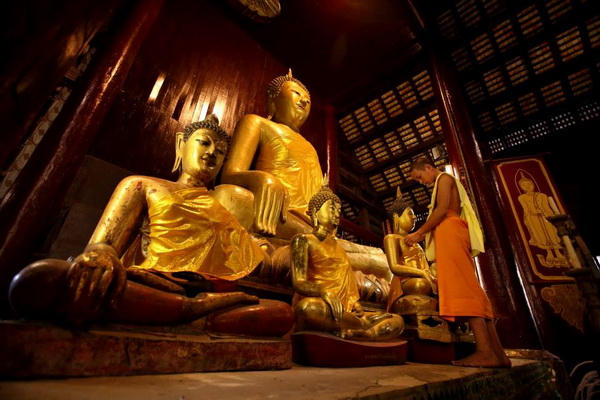 Phan Tao temple is one of the oldest temple in town, Located in the old walled center of Chiang Mai
Next to the well-known temple of Wat Chedi Luang of Chiang Mai is a small interesting temple called Phan Tao Temple, which means "to increase 1,000 times". The building was constructed not as a monastery, but as a royal palace building (ho kham) for the ruler of Chiang Mai, Chao Mahawong, who used the structure from 1846 to 1854. It originally stood on stilts, but these were removed when the building was refurbished as a monastery in 1876. Some traces of Chao Mahawong's habitation can still be seen, for example, the front gable end is decorated with the image of a peacock standing over a sleeping dog. The dog is the zodiac symbol of Chao Mahawong's birth year. The dog image is also present in the pediment of the left window on the front facade.
Constructed entirely of moulded teak panels fitted together and supported by 28 gargantuan teak pillars, the viharn (monastry) is one of Chiang Mai's precious treasures. This building has a three tiered roof with golden coloured chofa's (roof finials) shaped as stylized naga snakes. The front facade of the viharn is particularly beautiful. The gilded pelmet over the entrance shows intricately carved Lanna flower motifs. Over the pelmet is a gilded carving of a peacock over a crouching dog. Naga serpents and other mythological figures are also depicted. Both the pelmet and the peacock carving are gilded and inlaid with colourful mosaic glass.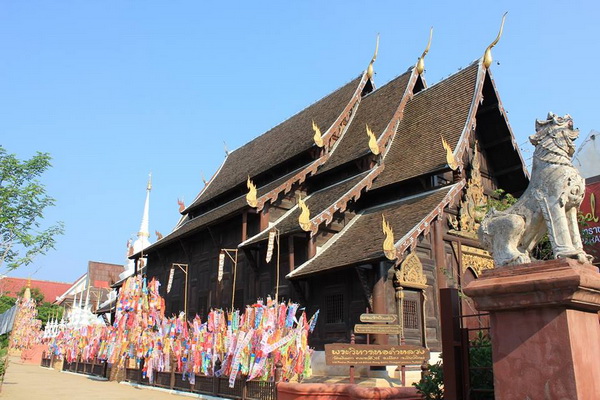 Within the wiharn, you can see red painted teak pillars along a large golden sitting Buddha which is the principal Buddha image of the temple. Other interesting old artifacts include a dhamma casket containing Dhamma texts written on palm leaves. There is also an antique tall pulpit-like stand, which is not used by priests, but usually used to house important Buddha images. On the side is the platform for the monks to use during the prayers: paraphernalia are on display.
In the garden of Wat Phan Tao is a white chedi, a small bell tower and monks' private living quarters, also called Kuti. Singh (or Burmese style lions) are guarding the temple.
The temple grounds are open daily from 6 am. until 6 pm. Admission is free.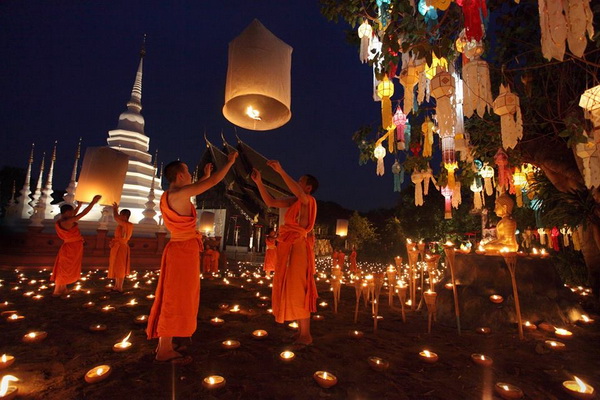 Visit Prateep on Yee Peng Festival at Wat Pan Tao
At night, during Loy Krathong festival, monks at Phan Tao temple light up thousands of candle's pond and glow hot air balloons. This ceremony is unique and can only be seen in this temple.
'Phang Prateet' or 'Phang Prateep' (a thump candlestick) is an oblation of Buddhism at Yee Peng Lanna Festival. 'Phang' is a little earthenware that is used for putting wax or oil and cotton candlewick in.
'Prateep' means light, which Lanna people believe that the light will lead the way of life as brightly as Phang Prateet. So Yee Peng Festival would be brilliant and full of the light from Phang Prateet surrounded.
Note : Wheelchair user is accessible
Our services :