Su Tong Pae the Bamboo Bridge of Faith and Success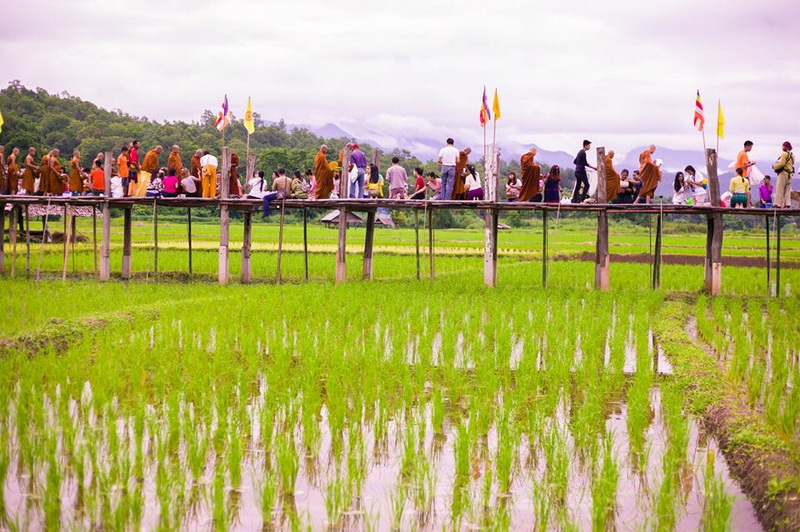 Su Tong Pae bamboo bridge is a very hidden treasure with awesome view and especially in the early morning with mist.
Su Tong Pae brigde located on the outskirts of Mae Hong Son City was built by villagers to serve the monks of Wat Tham Poo Sa Ma and locals of Ban Gung Mai Sak. A beautiful bridge supposedly the longest bamboo bridge in Thailand. It spans several rice paddies that must flood in the winter and a wide stream near the temple it serves.
The name of the Su Tong Pae bridge translates to 'successful prayer' in the Tai Yai language. The land for this bridge was donated by the farmers to the local community and the villagers constructed the bridge out of bamboo. It took  2 months and 12 days to build and it is opened for the public on 5th August,2012.
Good to know the local people belive, if you walk along the bridge you may wish, and your wish will come true!
Today, Su Tong Pae bamboo bridge is one of the must place in Mae Hong Son that you shouldn't miss.
There are sturdy wood steps down to the level of the bamboo bridge. Previous reports state the bridge is a bit rickety but we found no problems. Pretty umbrellas could be hired at either end, cold water was also thank fully on sale. October would be a nicer time to visit as the rice fields would be green, come December the rice had been harvested. But still great fun especially for children.
Monks leave the monasteries early in the morning about 6:30 am. carrying bowls through this bamboo bridge which they receive donations. Food is one of the commonest donation made, although people also donate flowers and incense sticks.
Piece of bamboo for make a wish
How to get to Su Tong Pae Bridge
If coming from Mae Hon Son city on Highway 1095 about 10 kilometers from town on the left hand side. There is a very large, department of highways sign indicating the Bamboo Bridge exit 2km. If you do not have a car, Most hotels or Travel Agency in Chiang Mai and Mae Hon Son will be able to book one for you.
Opening hours and Entrance fee : This place opens daily during daylight hours. Admission fee is free.
Note : Not accessible for wheelchair user
Our services :
Su Tong Pae Map