Doi Tung Palace and Mae Fah Luang Garden
Doi Ting Palace & Mae Fah Luang Garden: 'Feel the smell of Lanna in the middle of flower garden.'
If it is winter and you love cold weather, then perhaps you want to find some place really beautiful, some place that can make you enjoy cold weather along with stunning sightseeing. 
Speaking of some beautiful places during winter, surely you don't want to miss northern Thailand. Northern Thailand is a popular tourism land, being surrounded with mountains mostly. And Chiang Rai Province is a part of this. 
For Chiang Rai, there are many tourist attractions in it. Most of them are historic and meaningful. You will always gain happiness and knowledge if you visit any of them, including this one, 'Doi Tung Palace&Mae Fah Luang Garden'.
But, now, Doi Tung Palace is one of the most valuable tourist attractions in Chiang Rai. The architecture was built with Lanna-Swiss Chalet style. Now, that is an interesting contemporary work. Also, there are gorgeous wooden carvings all over it. Each carving is done with refinement.
If you don't know your way around, there will be tour guides on service. These tour guides can take you around the palace and tell you everything you need to know. Their tours are divided into rounds, with 20 minutes per one round.
You are able to walk into the palace to see the royal bedroom or the royal working room. But, always keep your camera in your bag, as the photography is prohibited.
You can visit Doi Tung Palace everyday, from 7:00-17:30. Morning is the most suggested time, if you want you lungs to be full of sweet smell of the air. The admission fee costs 90 Baht per one person. But, for an elderly person or a student, it will be 45 Baht.
Doi Tung Palace was the very first palace of Princess Srinagarindra, the royal mother of King Bhumibol. In the year 1987, Her Majesty spent her own money to build the place, in order that she could stay there during her royal duties.
Next, it is Mae Fah Luang Garden. The garden is also admirable. It is located just in front of the palace. The whole area is about 16,000 square metres. That is quite enormous. Inside the garden, there are many species of cold weather plants. All of them are rare and really colorful. You will want to take a lot of there photos, or you may not have another chance of seeing it anywhere else.
Beside of lovely flowers, there is another thing in Mae Fah Luang Garden that you should see too. It is 'Doi Tung Tree Top Walk'. This one has just been open in the year 2016. What is it? It is like a skywalk, of course. You pay for 150 Baht and you will find yourself walking on a thin bridge above trees. You will look down and see all greenery in the garden. If you're not afraid of height, then let's try!
The garden is available everyday, from 6:30-18:00. The admission fee is only 90 Baht.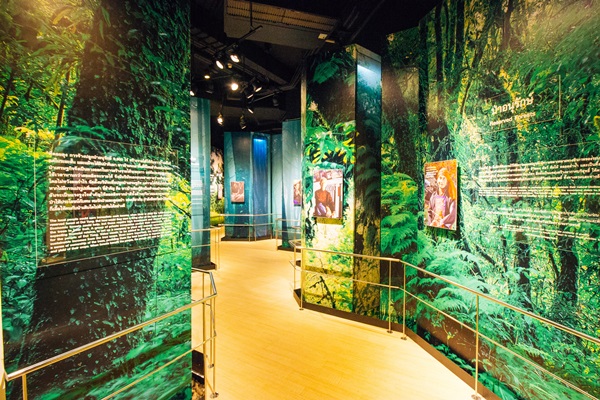 Moreover, there are 'The Tower of Inspiration'. It is something that you want to visit too before you leave. The tower is an exhibition hall, in fact. It presents the stories of Mahidol royal family, mostly philosophical. There are total 7 rooms of the exhibition. You can visit the place from 8:00-17:00. The admission fee is only 50 Baht.
Lastly, you can grab some souvenirs at the souvenir shops too. The souvenirs will be something like Thai silk, products from royal projects etc.
For further details, you may call 053-767015-7 or 05376 7003. The website http://www.doitung.org is also accessible.
How to get there 
Doi Tung Palace is located in Mae Fah Luang District, Mae Fah Luang County, Chiang Rai Province.
You drive your own car. Start your trip from Chiang Rai downtown. Then follow the Highway No.1 (Chiang Rai-Mae Sai) for about 45 kilometres. After a while, you should reach the 870th-871st kilometre. At that point, you will see an intersection. Just turn left for about 17 kilometres, head for Doi Tung Palace. If you have your own plan, we recommend you to book the car rental with driver for more comfortable.
Opening hours and Entrance fee : Opens daily from 7 am until 6 pm. Admission is 90 THB
Note : Wheelchair users is accessible