Attractions in Wiang Pa Pao – Chiang Rai District
Wiang Pa Pao is the southwestern most district of Chiang Rai Province, northern Thailand. In 1905 the district Wiang Pa Pao was merged with Mueang Phong and renamed to Mae Suai, while the central area of the old Mueang kept the name as the minor district Wiang Papao. In 1907 it was upgraded to a full district.
Wiang Pa Pao invites very few tourists to its land. This city is connected to many popular cities of Thailand. Wiang Papao has a limited number of tourist attractions which one can visit.
Attractions in Wiang Pa Pao
Wiang Kalong
Wiang Kalong, a newly-developed tourist attraction, is a community about 16 kilometers from the district office of Wiang Papao. Ancient furnaces which were used to make terra cotta utensils called Kalong have been found in this area. The furnaces are shaped like turtle shells of various sizes with a width of 2 to 5 meters. To get there from the city, drive south along the Divided Highway No. 1 for 8 kilometers then take a right turn onto Highway No. 118 to Wiang Papao (approximately 75-80 kilometers). For those wishing to travel from Chiang Rai to Chiang Mai via the Doi Saket Highway No. 1014, it is highly recommended to stop over at Wiang Kalong as it is on the way to Chiang Mai.
Wat Phrathat Mae Chedi
Wat Phrathat Mae Chedi is another interesting temple in Chiang Rai, which there is a museum of ancient items and amulets inside. The museum is the main highlight of the temple. The abbot established it, in order that later generations of people will have their chances of learning history. There are many exhibitions within the museum. All of them are really old, rare, and valuable.
Khun Chae National Park
Khun Chae National Park is located at Tambon Mae Chedi Mai of Wiang Pa Pao District. It can be reached by taking the Chiang Mai – Chiang Rai Route (Highway No. 118). The park headquarters is right next to the highway at kilometers 55-56. Visitors wishing to take a jungle trek and camp within the park need to procure the services of a guide and prepare their own camping equipment. The trek through the Khun Chae jungle is for adventure travel enthusiasts as the route passes through steep terrain and several hilltops and cliffs over 1,400 meters high. There are good scenic lookout points and trekkers can enjoy waterfalls, flowing streams and virgin jungle areas covered with various plants.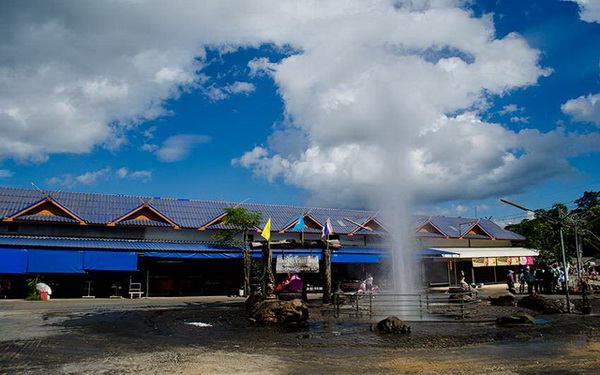 Mae Kachan Hot Spring
Mae Kachan Hot Spring : Has three natural hot spring well. Each pond about 3 meters wide. The room temperature about 80 degrees. Boiled eggs can be cooked within 3 minutes. Rooms have private bath of mineral water from hot springs to bath room. The opposite side streets. Put a point on the way from the car Chiang Mai – Chiang Rai. Have a maket selling souvenirs as clothing, cotton weaving local. Jewelry wood carvings, a restaurant, coffee shop tea tasting visit.