Chiang Mai Horse Riding Adventure

Chiang Mai Riding Horse, Enjoy the beauty of the local landscape when trail-riding with us. First ride or experienced evener, you will enjoy your day. Be at one with nature and take back home memories you will treasure forever.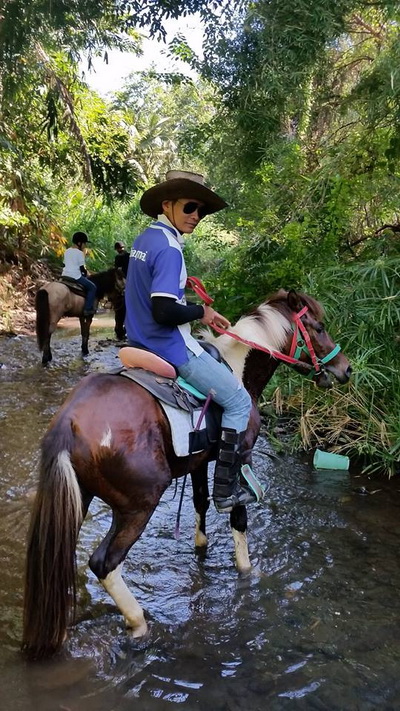 Looking for a new experience in Northern Thailand ?
Why not join us on a horse riding expedition through the untouched nature of this beautiful region.
Several times a week, our experienced instructors lead horse and pony riding trips to the north of Chiang Mai. Join us for a half day trip along jungle trails and through stunning scenery. There our experienced instructors will help you select a suitable horse or pony for your trek.
You'll ride across a variety of terrain, enjoying the tranquil surroundings and the luscious scenery. About half way through the trek, you'll take a break by a lake with a stunning mountain backdrop.
AD07 Chiang Mai Horse Riding Adventure

Horse Riding Fee

1 Hr

1,600.- baht

 

2 Hr

Time : 9:00am., 11:00am., 2:00pm.

 Open Mon-Fri (Please, booking in advance 3 days at least. )

Include boots and helmet

The minimum age limit at the stables is 3 years old

The weight limit for rider is 180lb / 80kg.

** Not include transport **

Group size 1-3 persons : We use

commuter sedan car 1-3 seats air-con

Group size 4-12 persons : We use commuter van 9-13 seats air-con
This private tour included only a transport, gasoline and a driver.
Excluded meal
Fact 
Half day tour ( This tour spend time about 4 hours.)
Private tour arranged only for your group
Insurance cover medical bills up to a maximum amount of 1,000,000 baht
Chiang Mai Horse Riding Map