Chiang Mai Horse Riding Adventure

Chiang Mai Riding Horse, Enjoy the beauty of the local landscape when trail-riding with us. First ride or experienced evener, you will enjoy your day. Be at one with nature and take back home memories you will treasure forever.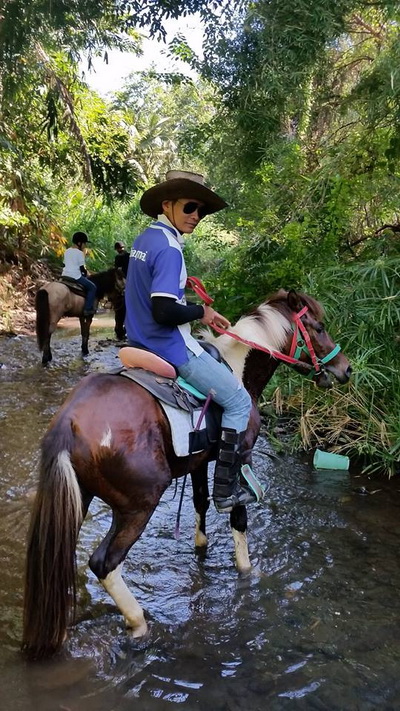 Looking for a new experience in Northern Thailand ?
Why not join us on a horse riding expedition through the untouched nature of this beautiful region.
Several times a week, our experienced instructors lead horse and pony riding trips to the north of Chiang Mai. Join us for a half day trip along jungle trails and through stunning scenery. There our experienced instructors will help you select a suitable horse or pony for your trek.
Experience an unforgettable journey exploring Northern Thailand's breathtaking landscapes on horseback. Discover hidden jungle trails, lush greenery, serene lakes, and mountain vistas with our expert instructors. Suitable for beginners and seasoned riders alike, our guided excursions offer a thrilling opportunity to connect with nature and create lasting memories.
You'll ride across a variety of terrain, enjoying the tranquil surroundings and the luscious scenery. About half way through the trek, you'll take a break by a lake with a stunning mountain backdrop.
AD07 Chiang Mai Horse Riding Adventure

Horse Riding Fee

1 Hr

1,600.- baht

 

2 Hr

Time : 9:00am., 11:00am., 2:00pm.

 Open Mon-Fri (Please, booking in advance 3 days at least. )

Include boots and helmet

The minimum age limit at the stables is 3 years old

The weight limit for rider is 180lb / 80kg.

** Not include transport **

Group size 1-3 persons : We use

commuter sedan car 1-3 seats air-con

Group size 4-12 persons : We use commuter van 9-13 seats air-con
This private tour included only a transport, gasoline and a driver.
Excluded meal
Fact 
Half day tour ( This tour spend time about 4 hours.)
Private tour arranged only for your group
Insurance cover medical bills up to a maximum amount of 1,000,000 baht
Chiang Mai Horse Riding Map