Wat Rong Khun Light Fest
The Illumination of White Temple starts from November 22 to December 22, 2019
Wat Rong Khun Light Fest 2019 in Chiang Rai, Thailand.
By meticulously portraying his vivid imagination through his paintbrush, Thai national artist Chalermchai Kositpipat has dedicated half of this life building world-famous captivating Buddhism Art known as "Wat Rong Khun", or so-called "the White Temple".
Today, the same paintbrush, integrating with creativity and world-class technologies, livens up Wat Rong Khun at night with "Wat Rong Khun Light Festival". The festival is the first-ever nighttime experience at Wat Rong Khun, as well as the first collaboration with Index Creative Village, ranked the 7th world's best event organizer, with the budget over 100 Million Thai Baht. For the first time, the phenomenal festival employs over 100 laser projectors and 3D projection mapping technique at Wat Rong Khun, under the concept of "The Illumination of White Temple", to illuminate architectural and art pieces all over the temple.
Be prepared to be perplexed by the horror of hell before crossing the overpass to gleaming heaven being brought to life from the sensational imagination of Chalermchai Kositpipat. The Wishing Well sparkles so beautifully as if all wishes are granted, whilst the nearby Bodhi Tree of Enlightenment narrates the myth of Lord Buddha and the Mara (demon).
The Crematorium implies the dharmic truth of inevitableness of birth, aging, illness, and death. The highlight goes to the Ganesha Hall, where spectacular multimedia light shows through water curtains take place. Only 1,000 seats are limited per a round of show.
Show time 60 minutes, 2 rounds in each day : 18:30hrs and 20:30hrs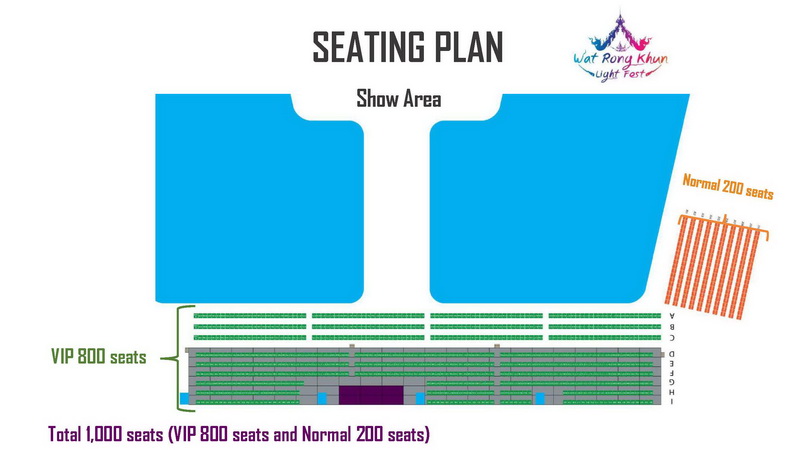 Fact
Wat Rong Khun Light Fest :  Show time 60 minutes, 2 rounds in each day : 18:30hrs and 20:30hrs
Maximum 1000seats/round (VIP 800 seats and Normal 200 seats)
This price is ticket only, it is not included a transport service.
Ticket cannot refund.