Golf Course in Chiang Mai : Chiangmai Highlands Golf & Spa Resort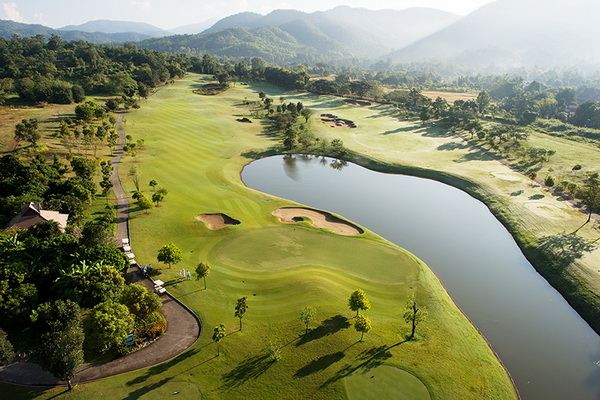 Elevate Your Golfing Experience at Chiangmai Highlands Golf and Spa Resort
The golf course and mountains that surround on all sides combined with lush playing conditions make Chiangmai Highlands golf paradise. It's difficult to determine which is more stunning, the panoramic views of the mountains, tropical jungle vegetation or the incredible Schmidt-Carley designed layout with rolling fairways and flashes of bunker faces guarding the greens.
Chiangmai Highlands Golf is exciting and challenging for golf enthusiasts of any level and offers five sets of tees making it playable for everyone. As you walk down the first fairway you will undoubtedly feel you are beginning a golfing adventure.
The first few holes lead through the lower elevations of the property winding through mountains and lakes before climbing to the dramatic finish of the signature par-5 18th hole.
The Tiff-Eagle greens are large, smooth and undulating; usually rolling between 10 and 11 on the Stimp-Meter.
One signature of Chiangmai Highlands is the deep green side and fairway bunkers, which are stunning to see especially early in the morning and evening, but punishing to errant shots.
Golfing at Chiangmai Highlands Golf is a truly memorable experience with magnificent views and challenging golf.
18 holes par 72 (7003 yards) Chiang Mai Highlands was designed by Schmidt-Carley, the same team responsible for many of the Mission Hills' China layouts and many of Asia's exciting new courses such as Amata Spring and Siam Country Club. The course itself is set in the hills outside Chiang Mai, giving golfers the distraction of magnificent views on every hole.
The golf course is exciting and challenging for a player of any level and offers the choice of 5 different tee boxes. As golfers tee-off from the first tee and stroll along lush Paspalum grass fairways, a sense of golfing adventure starts. They are surrounded by magnificent views of the entire course and the mountain skyline in the background, there are over 100 fairway and green side bunkers.
From the inviting downhill 1st hole, the golf course effortlessly flows along, gaining strength, beauty, and character with each passing hole until its thrilling, dramatic finish on the unforgettable 18th.
Weather forecast Chiang Mai Highlands Golf & Spa Resort

29°

Partly Cloudy

05:4818:51 +07

Feels like: 33°C

Wind: 10km/h SW

Humidity: 64%

Pressure: 1006.1mbar

UV index: 0

SatSunMonTueWed

37/25°C
38/25°C
38/25°C
37/25°C
35/24°C

Green Fee Rate
Golf Packages
Price

(Inclusive Green Fee, Caddy Fee and Golf Cart)

High Season Nov,1st – Mar,31st
3,400 Baht
Low Season Apr,1st – Oct,31st
3,100 Baht
Additional 9 Holes
2,200 Baht
Private transport from your hotel in Chiang Mai town
 3,200 baht / Van
Remark:

1. The golf package included Green Fee 18 holes, Caddy Fee and Golf Cart fee.
2. The private transport service included a comfortable air-condition van with driver and gasoline cost for whole trip during early morning (Depends on the tee off time) until 18.00 pm.
After 18.00 pm, the overtime fee is 200 THB/hour.
3. Our special full service for the tee time reservation, restaurant reservation and Spa & Massage reservation are included.

Miscellaneous Fee

Golf Cart (Additional)
700 baht / 18 Holes / Person

400 baht / 9 Holes / Person

Caddy (Additional)
400 baht / 18 Holes / Person

250 baht / 9 Holes / Person

Umbrella
100 baht
Golf Shoes
200 baht
Golf Set
1,500 baht